With Afi G Suite Backup you can configure regular automated backups of your Google Workspace resources with several easy steps.
1. Install the application
Install Afi Backup application to your G Suite domain. Then log in Afi Backup panel using Google Workspace administrator account: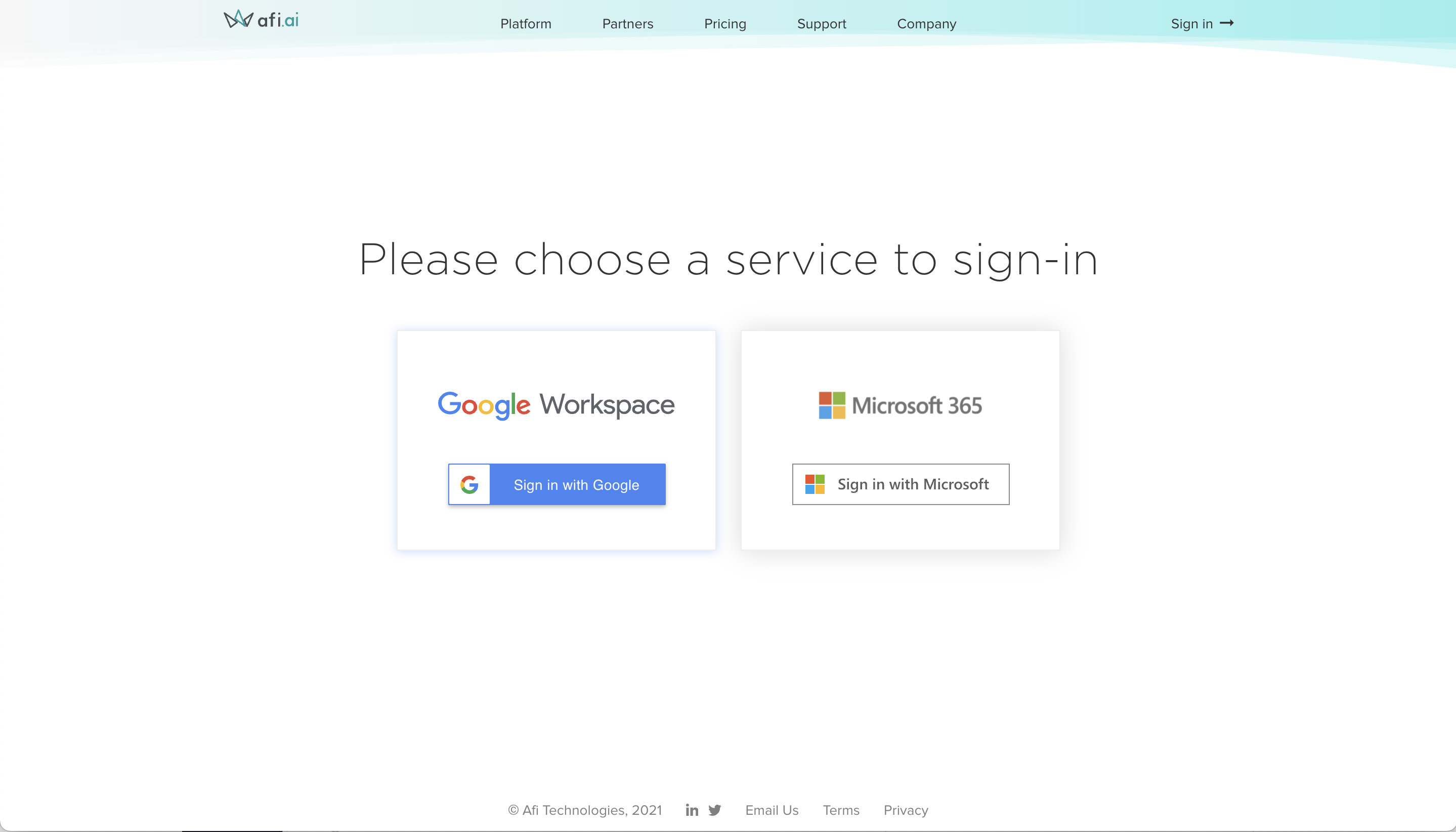 In rare cases it can take up to 24 hours for changes to propagate across the whole G Suite domain, and you may need to wait until all domain resources become visible and accessible for the application.
1. Assign protection to resources
Choose user accounts and Shared (Team) Drives which you want to protect and their protection policies (SLAs). Protection policy defines how often backups are performed and what type of data is protected. By default, Afi Backup provides the following policies for user accounts and Shared Drives protection: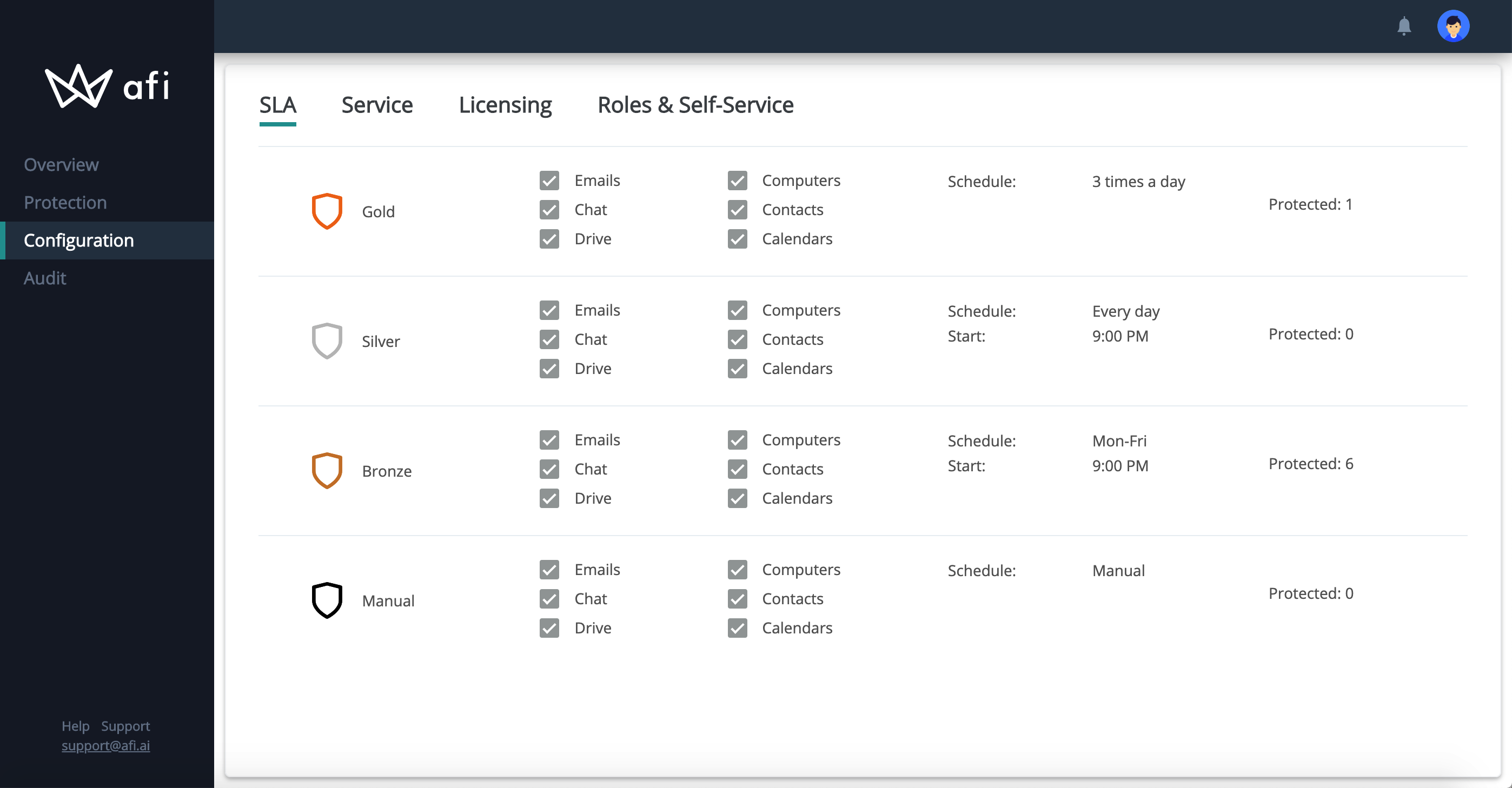 Assign protection policies to selected Users, Shared drives or all users within selected G Suite Organizational Units.
Click "Organizational Units" to manage SLAs by OUs.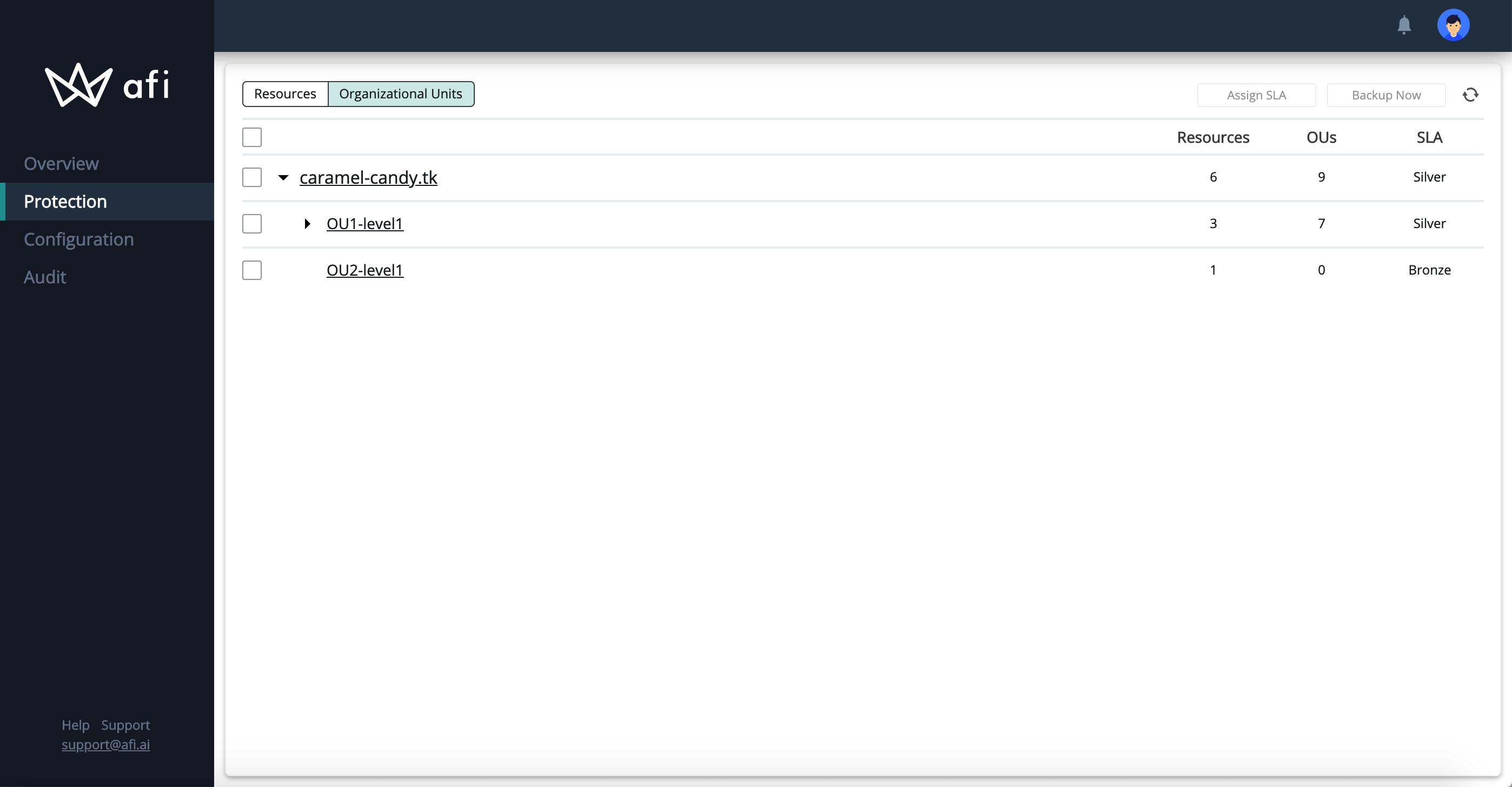 Click "Resources" to assign SLAs by User / Shared Drives: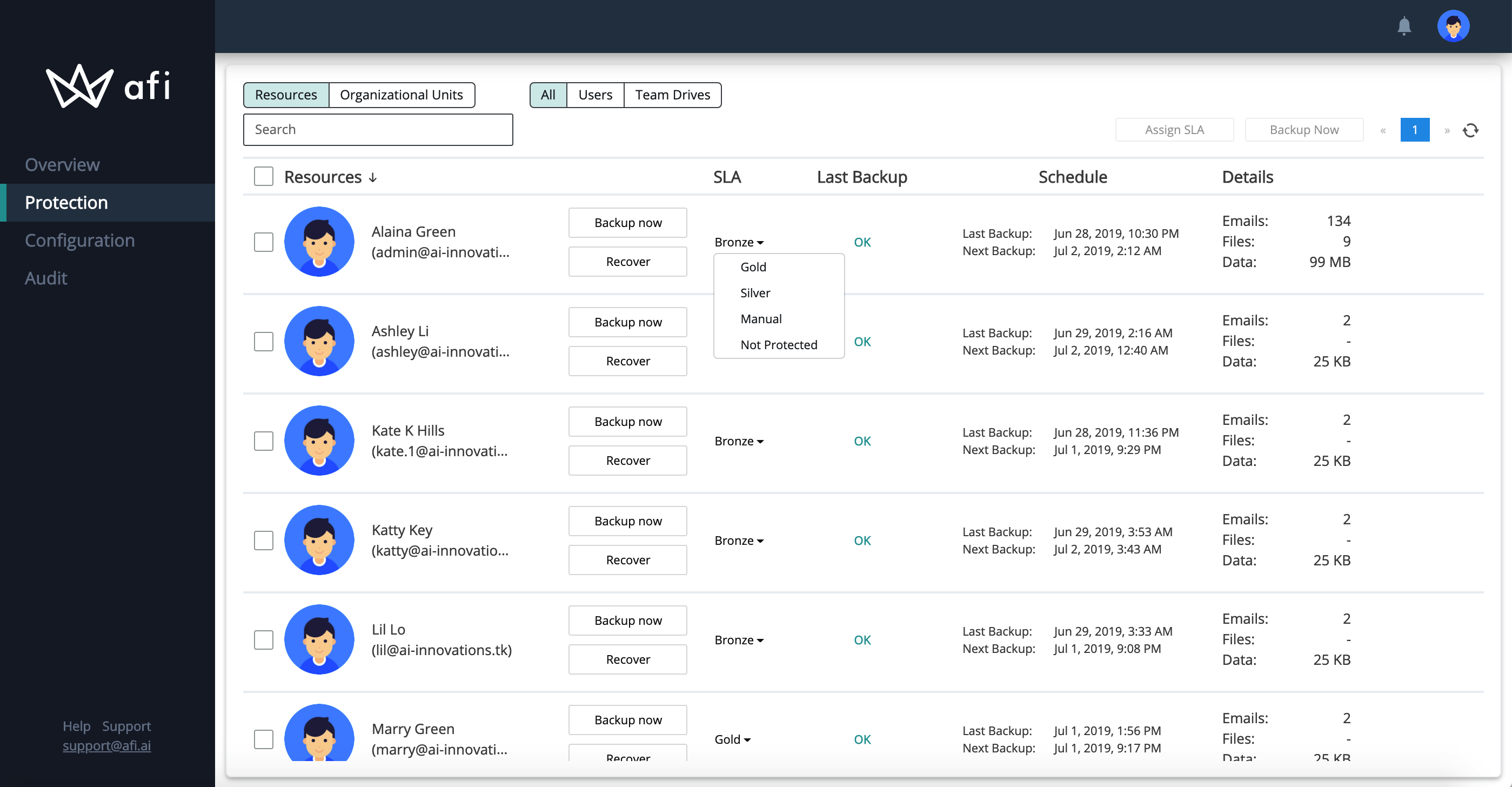 2. Backup
For Bronze, Silver and Gold protection policies backups are run automatically according to the schedule defined by the applicable SLA policy. Afi shows the time of the next scheduled backup in the Protection screen.
For Manual protection policy backups should be triggered manually by pressing 'Backup now' button for user accounts or Shared drives in the Protection screen, or 'Backup all now' button in the Overview screen. User-initiated backups can be triggered for any resource protected by any available protection policy.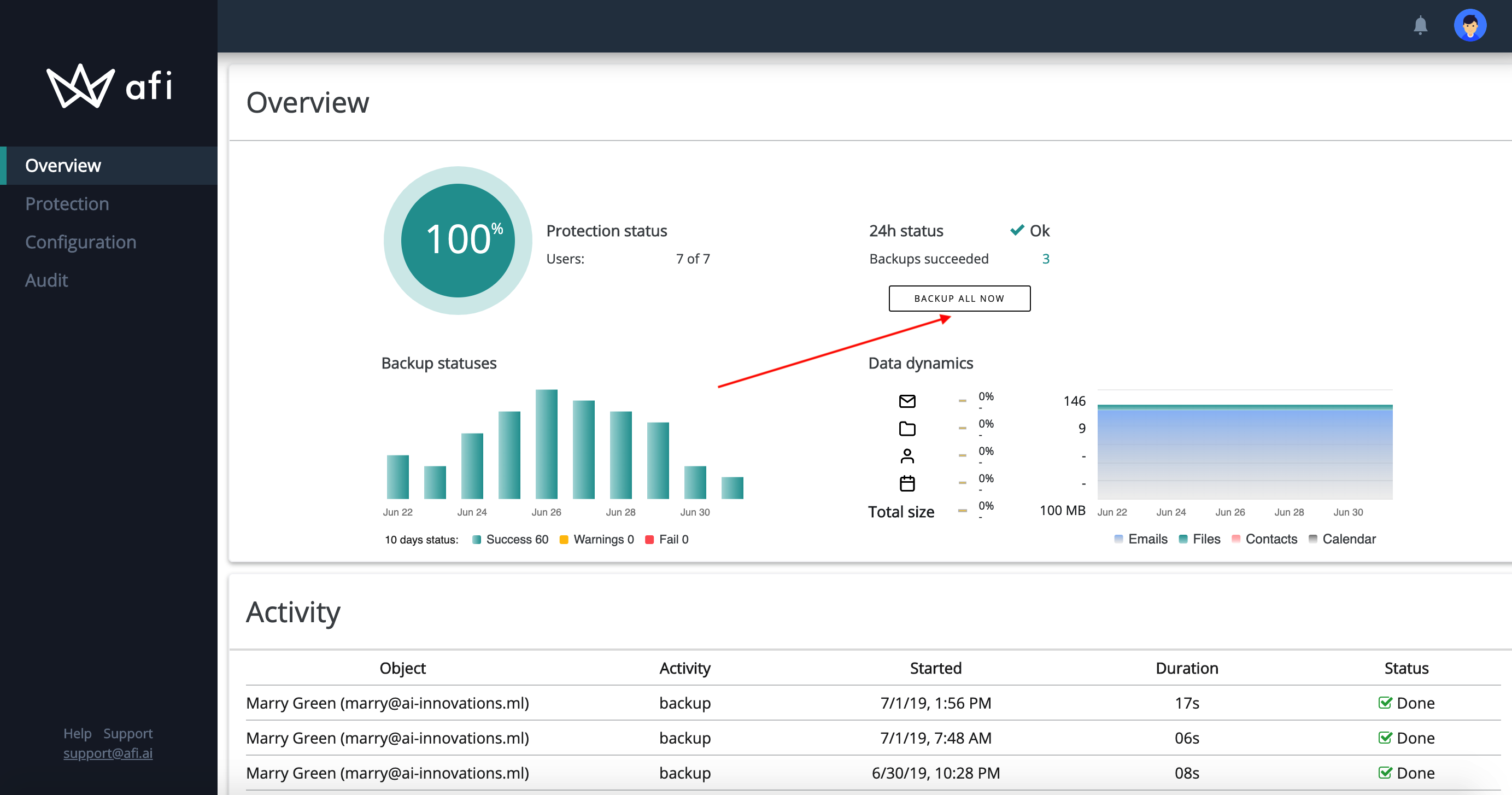 Backup status can be monitored both on the Protection screen (see the progress wheel in Status column) or via Audit screen:


For convenient tracking in Audit screen you can choose only backup operations with 'In progress' status:

After backup account data can be browsed by pressing Recover button next to the account on Protection screen.
3. Data browse
Recovery screen enables live preview, search and browsing of user mailboxes, Drives, contact lists and calendar events: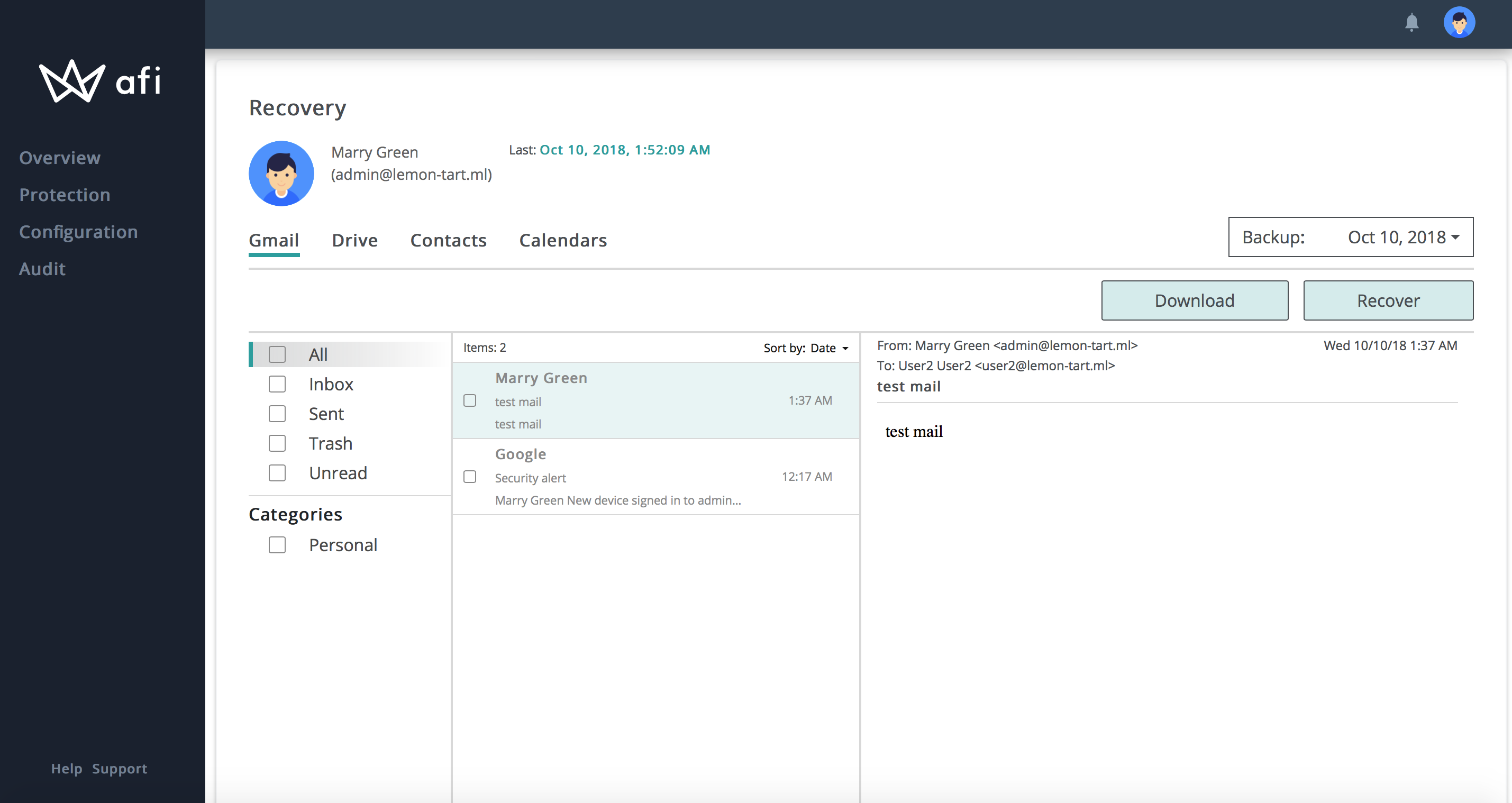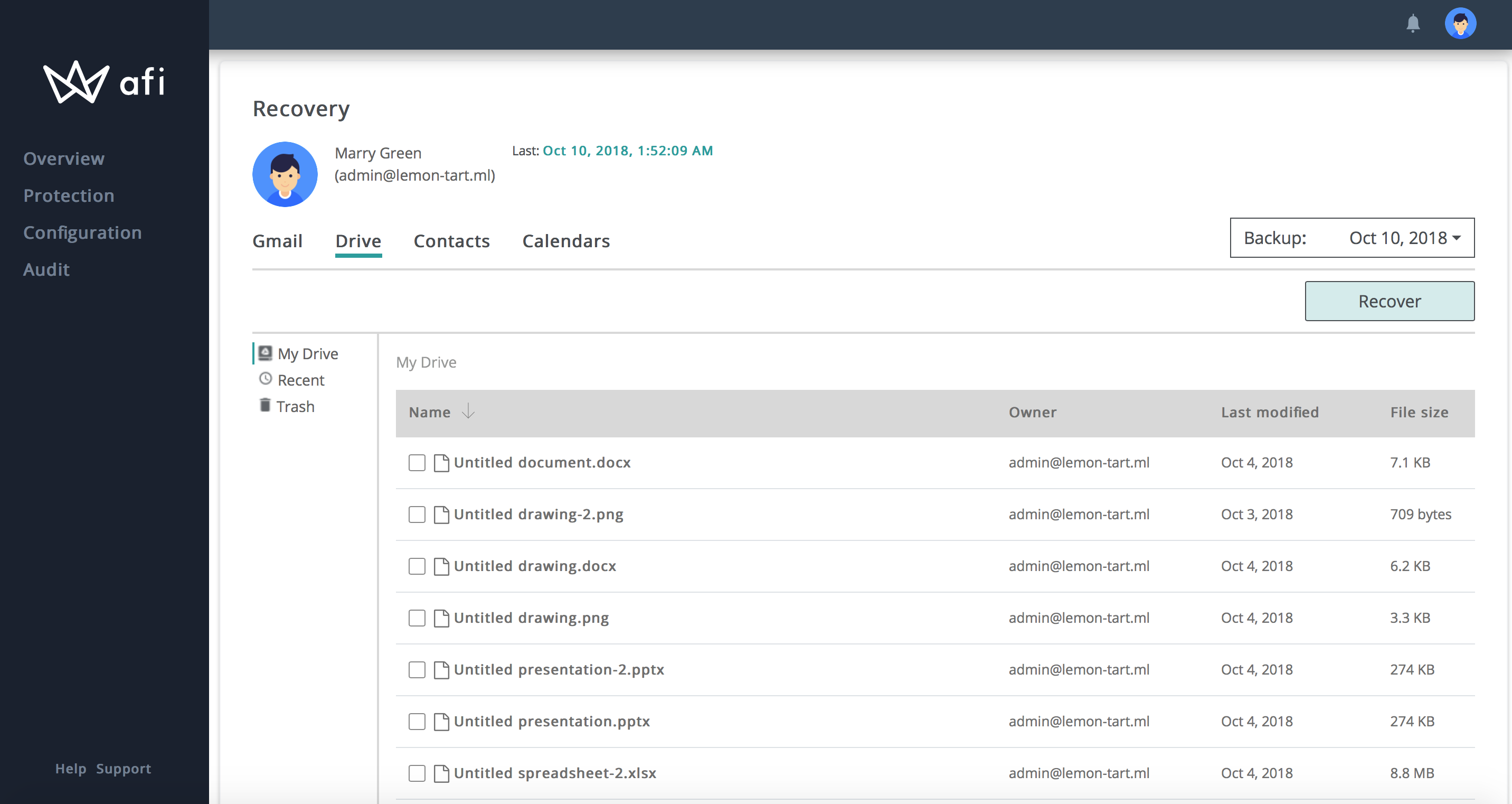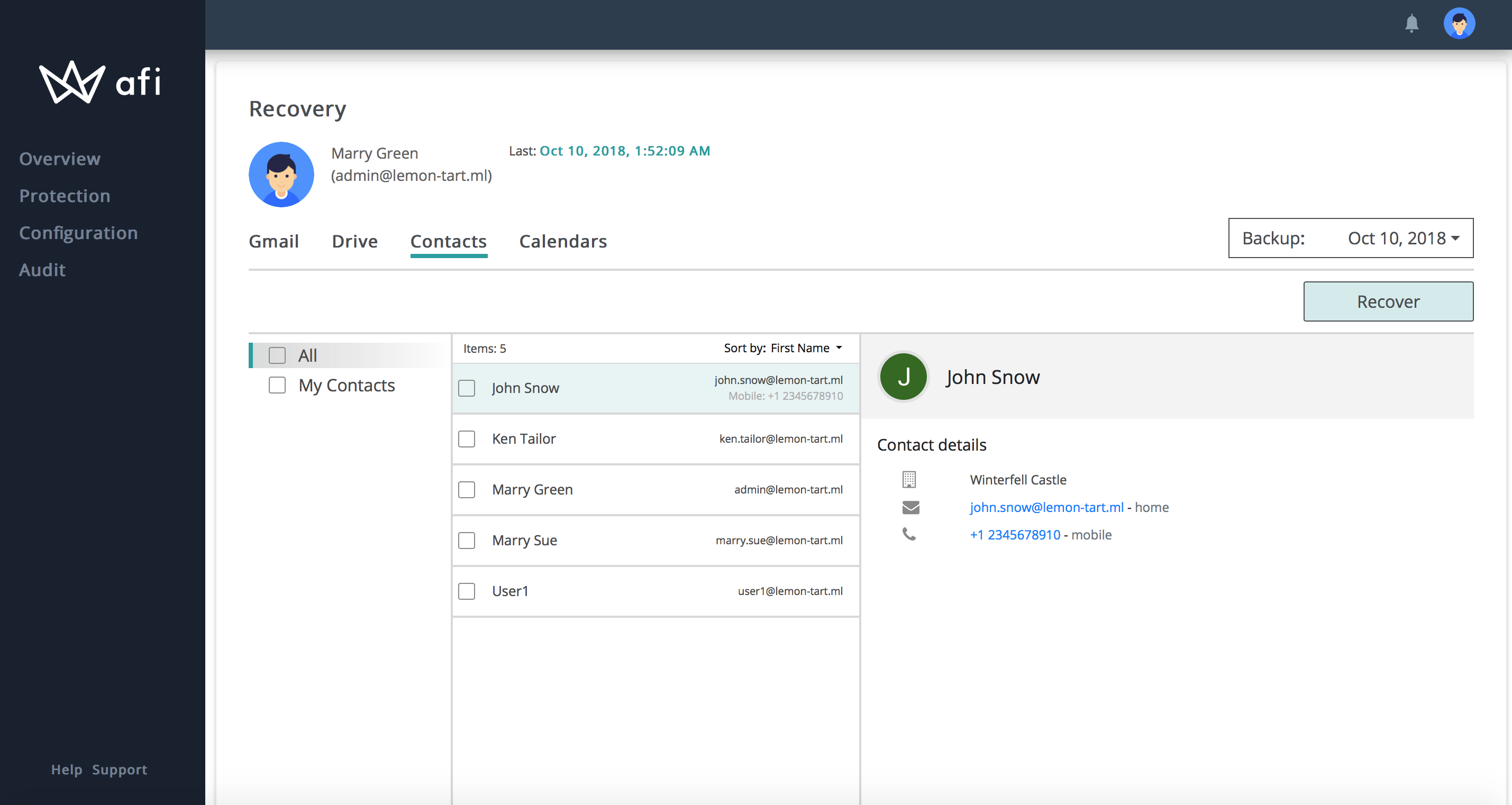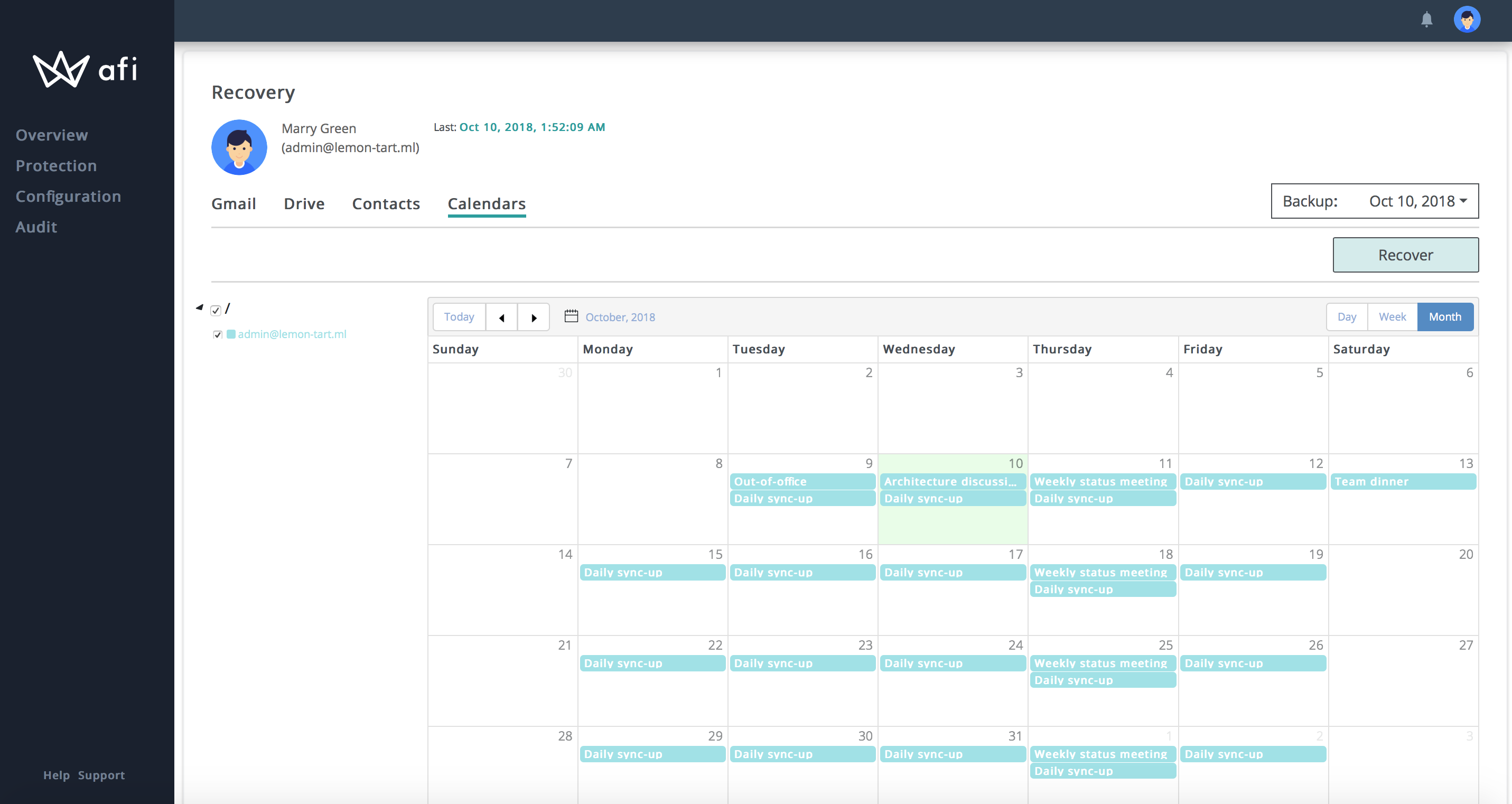 4. Data download
You can download specific emails or drive files from any recovery point.
Choose emails to download and press 'Download' button: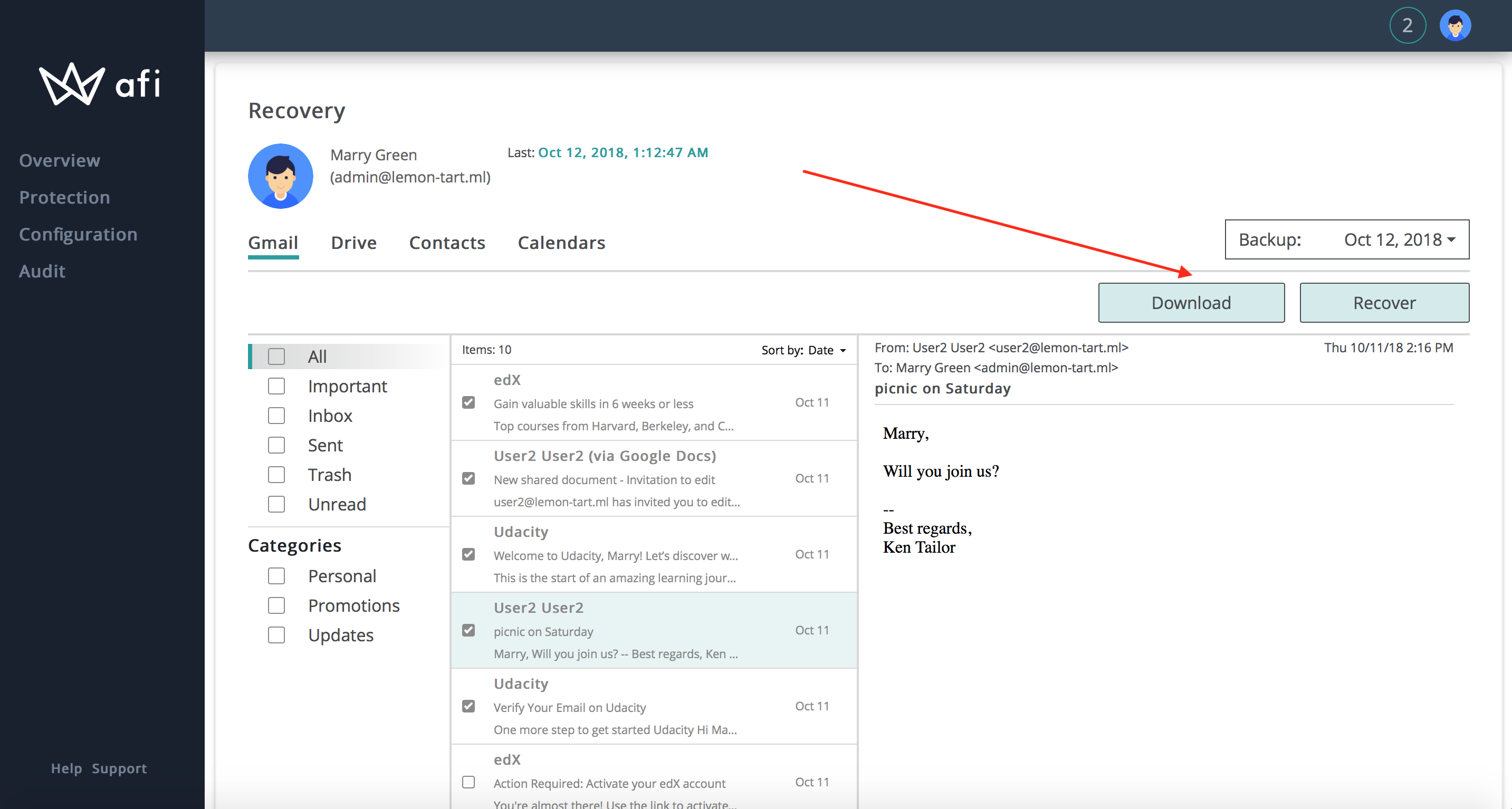 Click on filename to download a file from the Drive: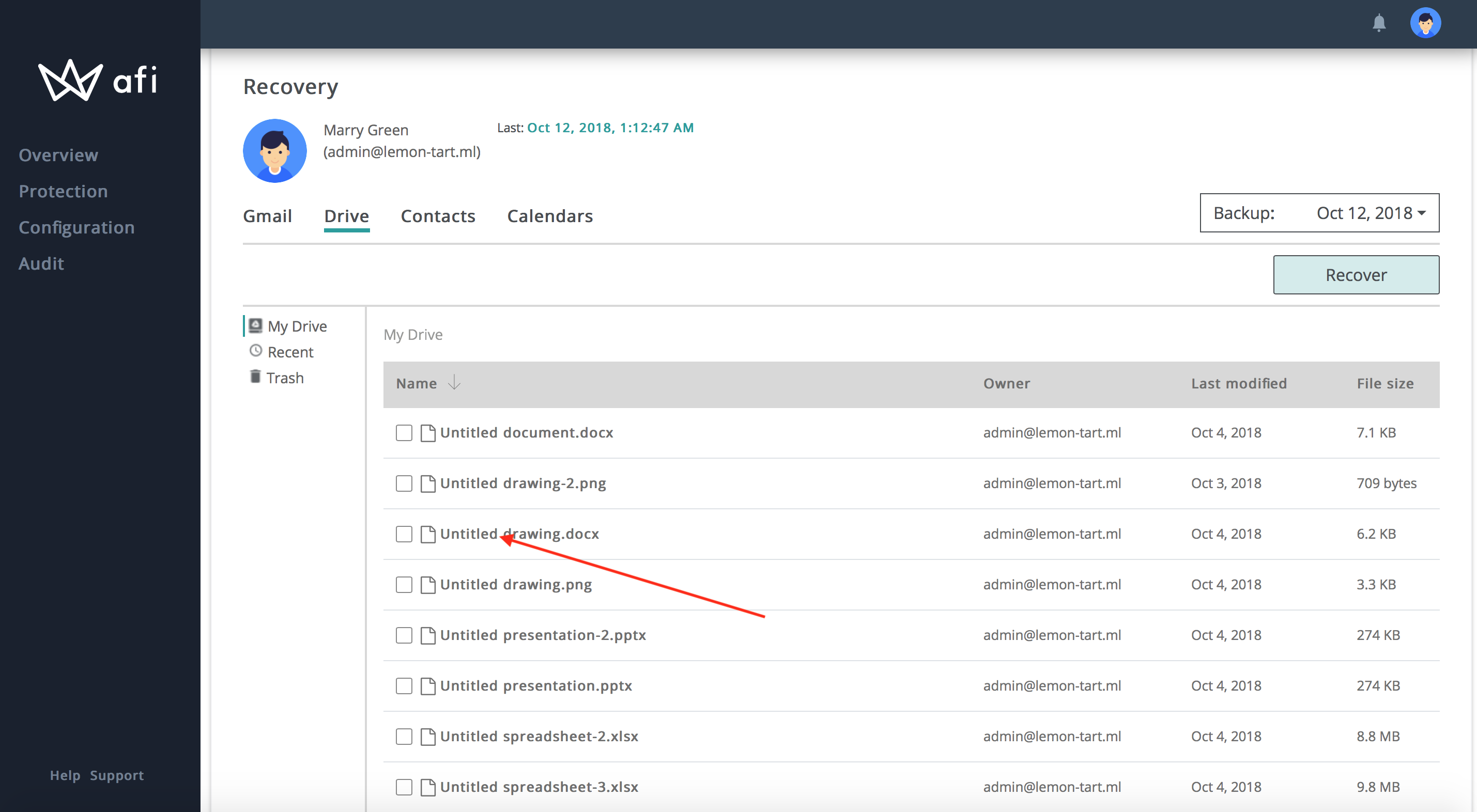 5. Data restore
Restore can be performed for:
whole user account or Shared drives
specific G Suite services (for example, only mailbox)
separate items (for example, specific emails or folders inside a Drive)
To initiate restore process:
select full account / service or only selected items restore
(optional) choose specific services (applications) for restore by enabling checkboxes (see the example below)
specify where to restore (new or the same user)
select in-place recovery (overriding existing content) or recovery to a separate folder
press 'Recover' button