Afi partners can add and manage their customer domains under single Afi partner account directly from Afi Backup panel. To get access to the partner program, you need to sign up at https://afi.ai/partners and go through (a very short) verification process.
There are three ways to add customer to the partner account:
install Afi application on behalf of customer directly from partner control panel
add existing customer account by customer ID
provide onboarding link for the customers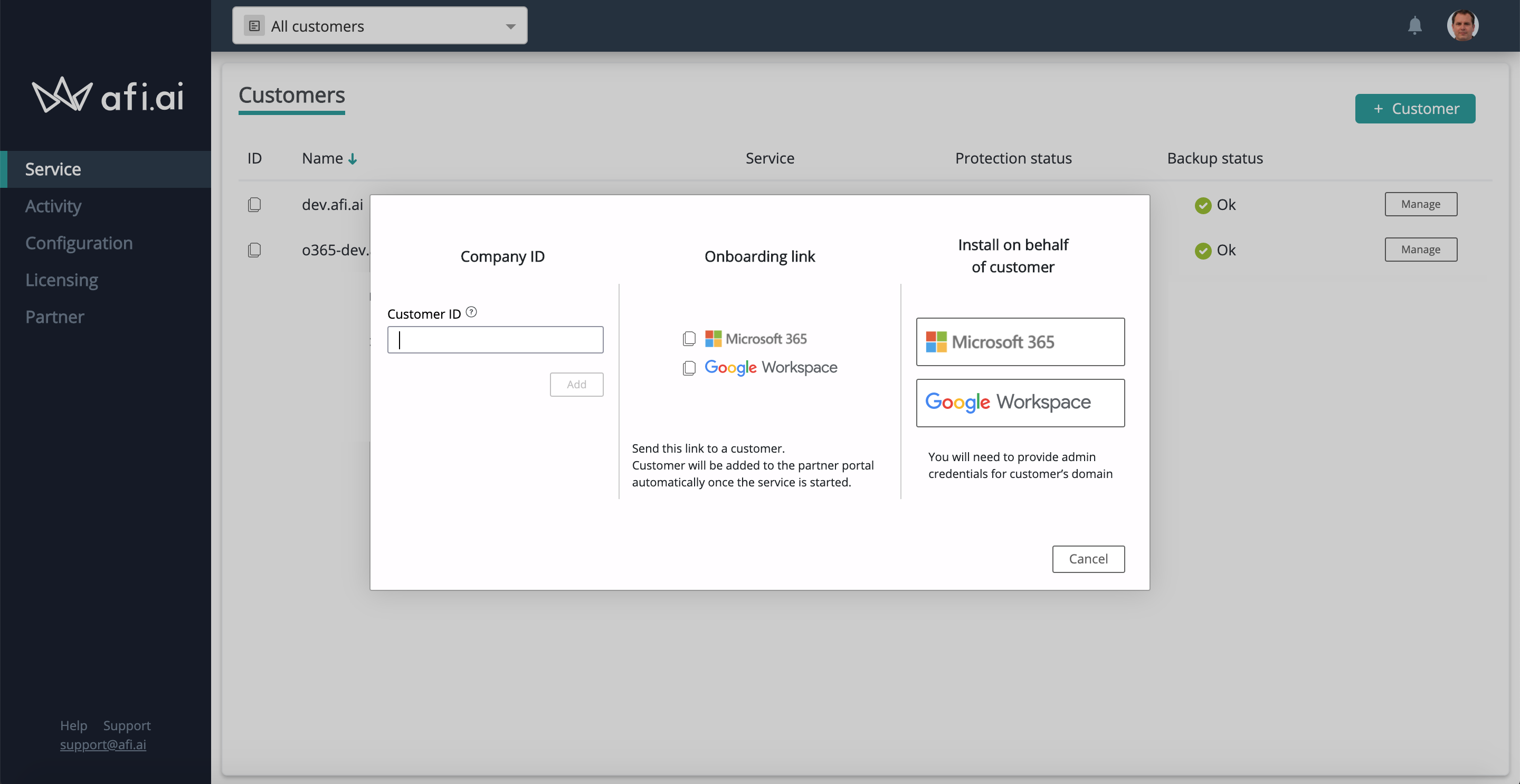 Install on behalf of customer
If you have credentials from customer's Google Workspace or Office 365 domain administrator account, you can install Afi application in customer's domain directly from your Afi partner account. To do it, please choose Microsoft 365 or Google Workspace option in + Customer dialogue and then user customer's domain administrator credentials to sign-in and install the application in a domain. After an installation, you will be redirected back to your partner account and will see the newly added domain among the other customer domains.
When application is installed to a customer domain directly from partner account, we assume that the partner has full access to customer's Google Workspace or Office 365 domain and thus grant the partner full control over customer's account in Afi - partner administrator will be able manage backup configuration and account settings as well as browse backups and recover data.
Add customer by Customer ID
If you don't have direct access to customer account credentials, you can ask a customer to install Afi application themselves (see the Installation Guide, it takes 1-2 minutes to complete the process) and then link customer account to your partner account with these steps:
1. Ask customer domain administrator to get Afi Customer ID from Service -> Configuration --> Service tab in customer's account.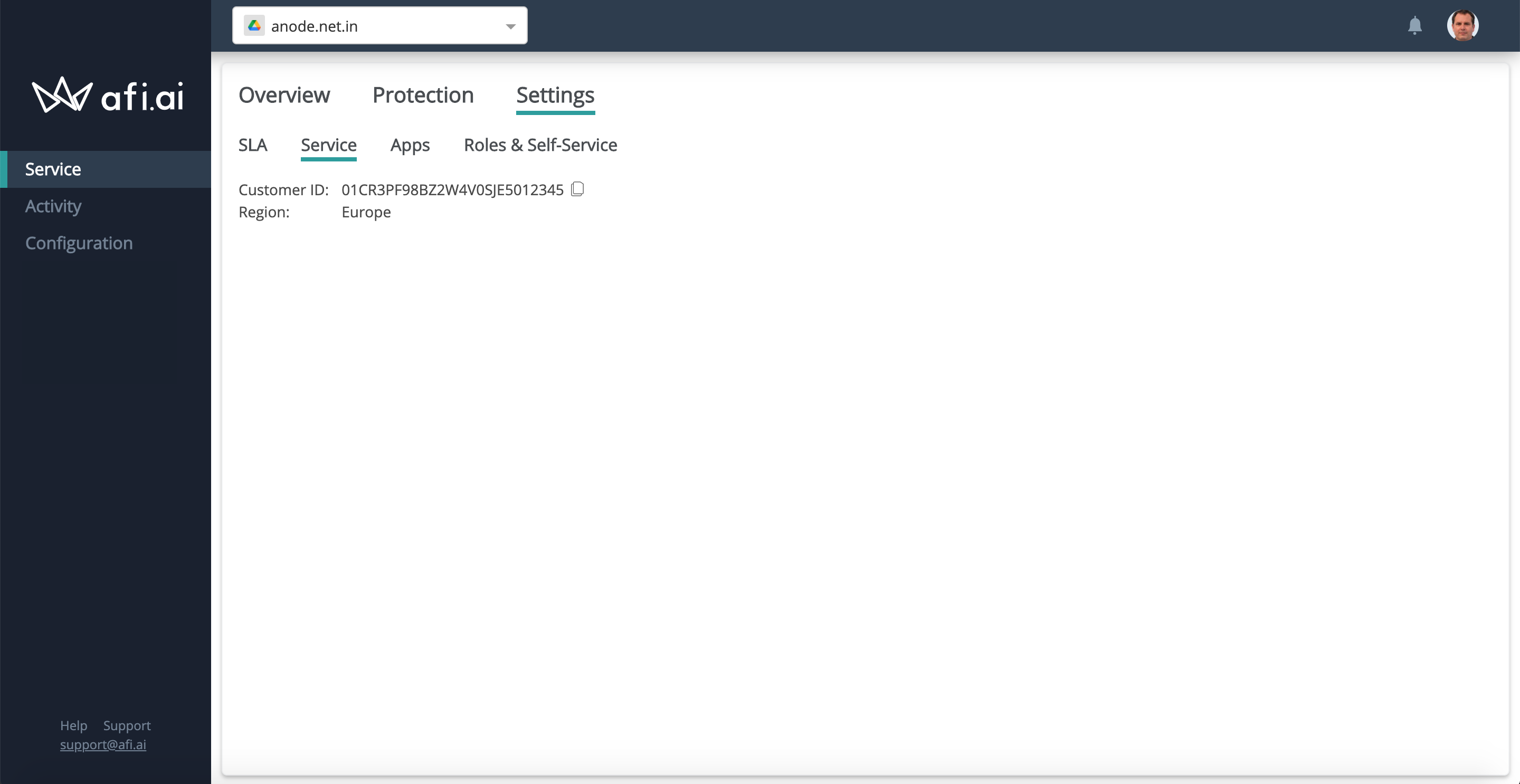 2. Add the customer in your partner account using the ID: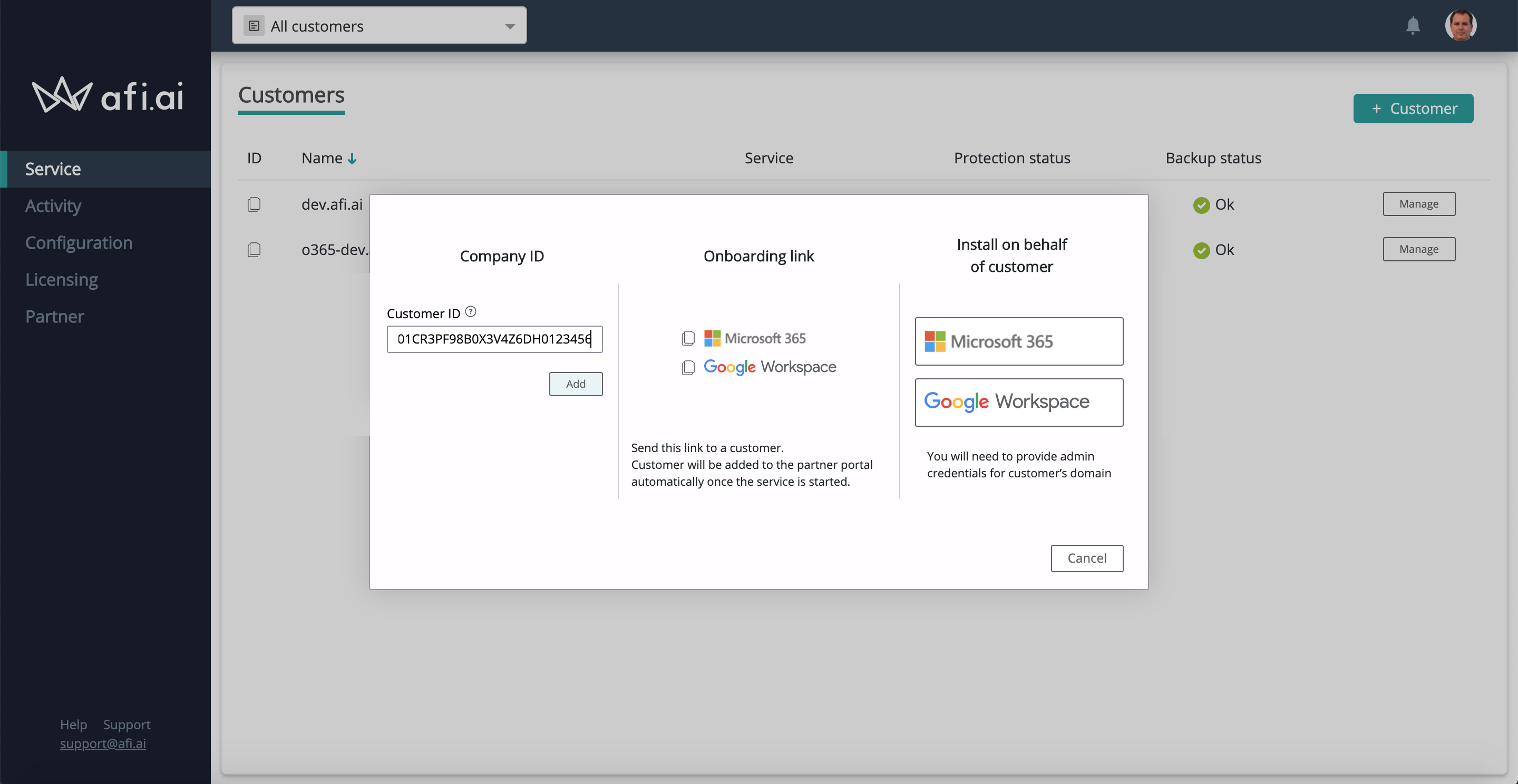 Customer onboarding using partner link
Afi also supports another (simplified) onboarding flow using partner links. Partners can share custom onboarding links that contain their partner ID. Customers that install Afi application using the link will be automatically added to the partner portal. If a partner configured custom branding, the branding settings will applied to the onboarding link / installation process (e.g. the partner link domain, application domain and branding).
Onboarding links are permanent and can be copied from Onboarding link section in + Customer dialogue.