Afi Partner Program members can rebrand Afi Backup to deliver a fully customized cloud service to their clients. Branding options are available for all product components - from the domain name and logos to notification emails and links.
To setup the custom branding, you will need the following items:
Company and Product name
Service domain - domain name which your clients will use to connect to Afi Backup, for example, backup.<your-domain-name>. We strongly recommend to choose a subdomain of your main domain as a Service domain name as we fully and automatically manage the DNS zone associated with Service domain.
Logos for white and dark background (each logo should be under 128 KB)
Links to your website, support board and other information resources for your clients

Company website
Terms of Service
Privacy Policy
Knowledge Base
Support email
Branding configuration includes several steps:
1. Go to Configuration → Branding tab in Afi Partner Portal, click on Edit button and fill the branding information in the form, then click on Save.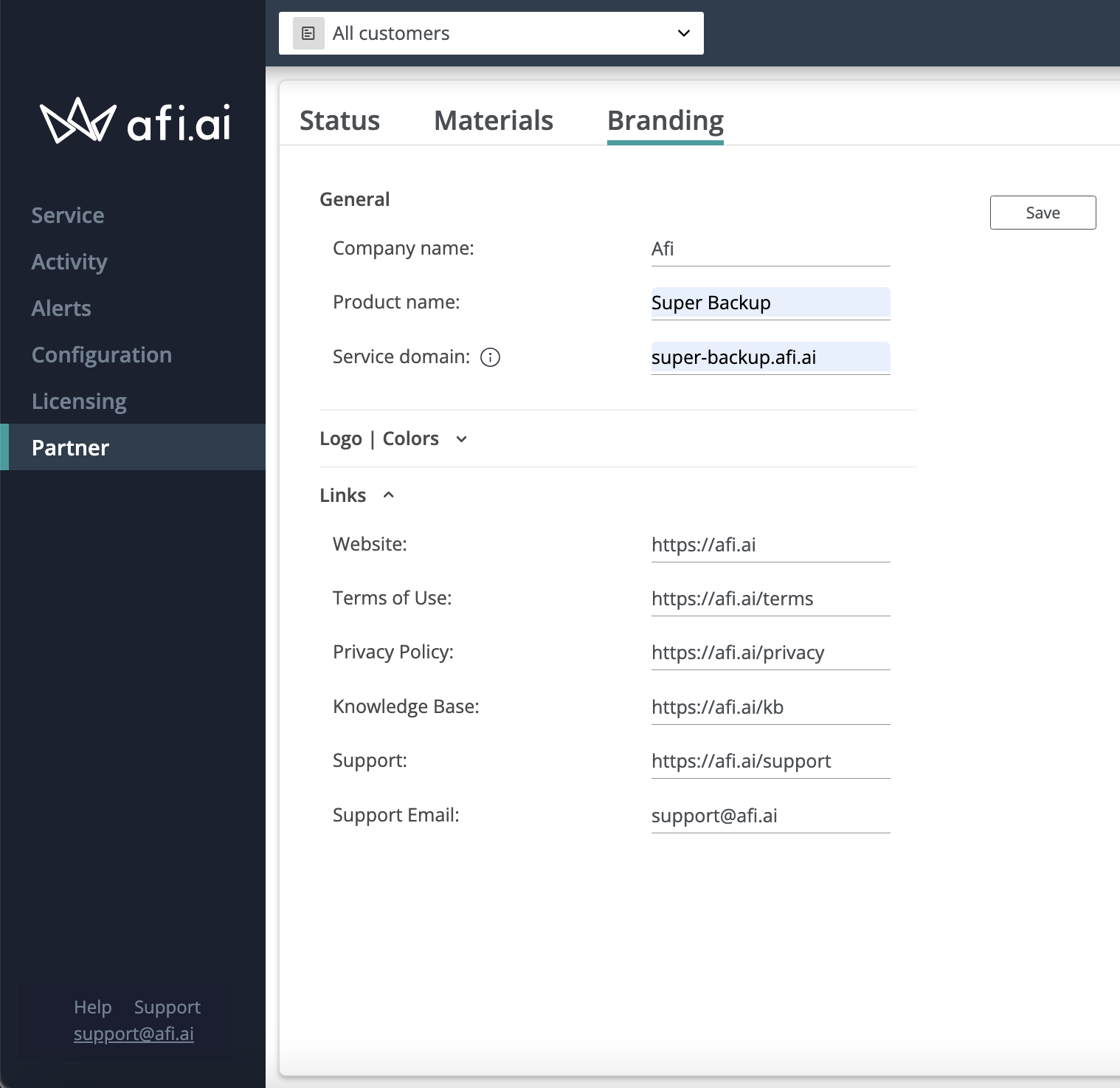 2. After the configuration is saved, the application will show a set of DNS records which you need set in your domain registrar.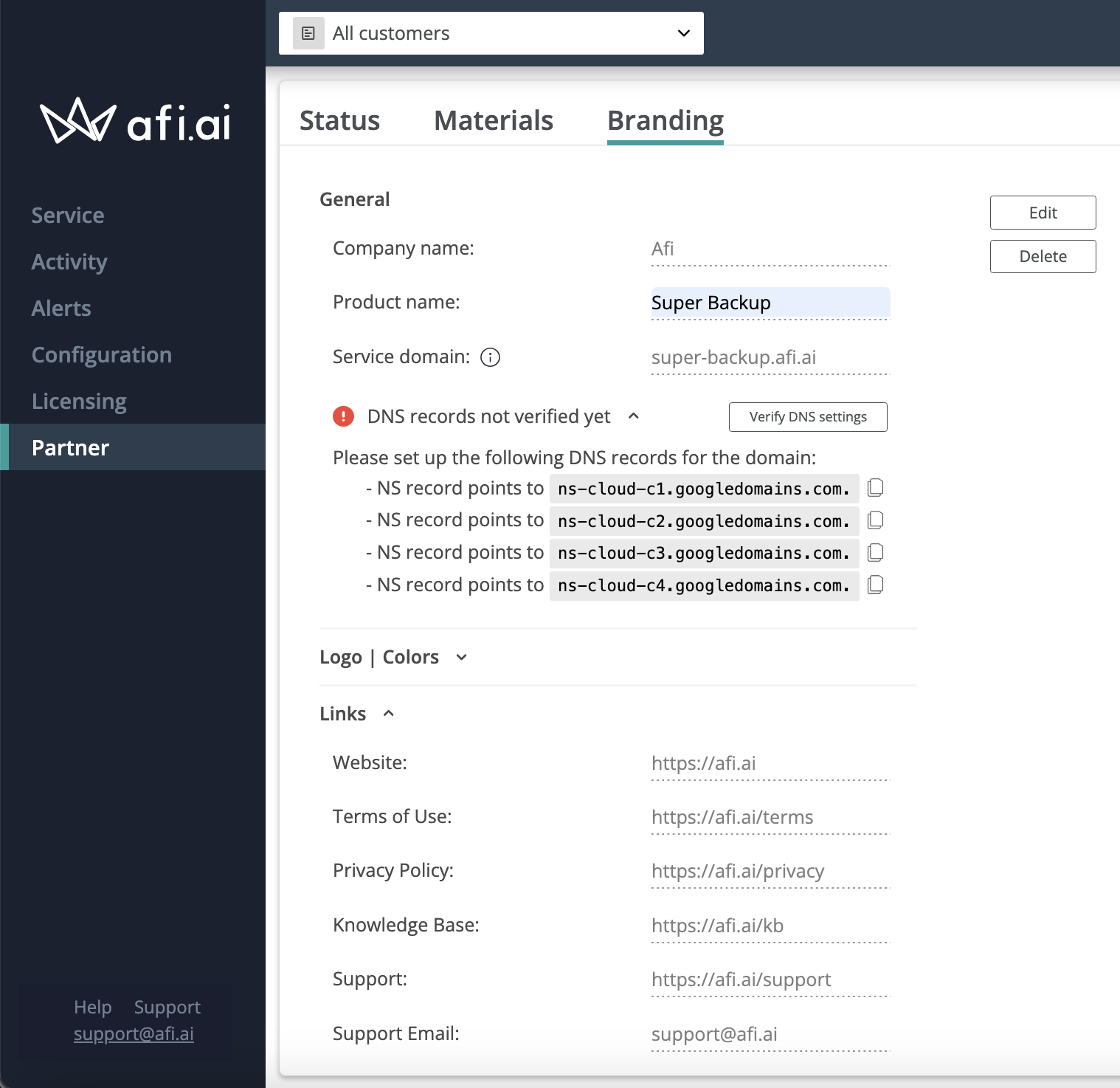 If your Service domain is backup.<domain-name> then you will need to add 4 Nameserver DNS records with host backup pointing to the set of displayed NS servers (ns-cloud-<xx>.googledomains.com.). Below is an example of such DNS record configured in GoDaddy domain registrar:

After the DNS records are set on the domain registrar side, you can go back to the Afi Partner Portal and trigger verification of the Service domain via Verify DNS settings button. Generally, it takes up to 5-10 minutes for the system to perform a DNS verification, so if your first verification attempt fails we advise to try again later.
3. When the domain verification is successfully completed, open the url related to the Service domain in a web browser and wait until HTTPS certificate is issued and verified (the browser will show the "Not secure" warning during this short time). Please note, that it might take up to a few hours for the certificate to be verified and after that your branded domain will be ready to use.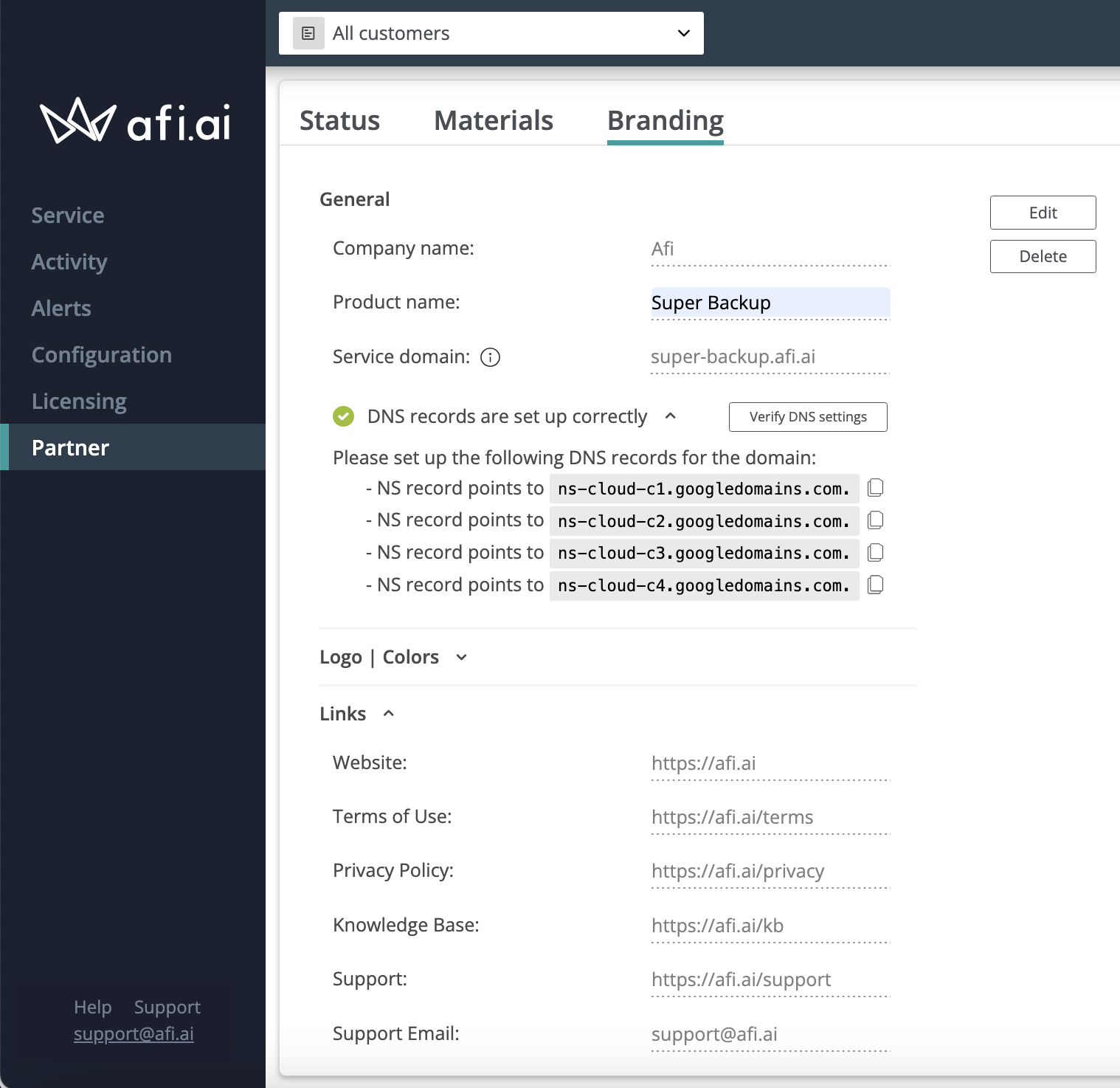 After the branding is set up, you can start onboarding new clients using your Service domain. All clients that you onboard using onboarding links or the standard flow will see your branded UI, branded links, emails and other application components (aligned with the branding settings associated with your Service domain).