In this article we discuss the automatic license management functionality provided by the Afi SaaS Backup service.
With automatic license adjustment enabled, Afi will increase or decrease the license count for a subscription based on the current service usage. In particular, this feature can be used together with auto-protection settings for Google Workspace or Microsoft 365 to ensure that all the new users added in your domain are automatically protected and licensed.
Afi licensing model
The license count assigned by the service is calculated according to the Afi licensing model and depends on the two factors - number of active protected users and total backup storage space. Afi requires a license per each active protected user and each user license grants 50GB of backup storage space pooled across a domain. If the total domain backup storage usage exceeds the amount granted by user licenses, then additional user licenses should be purchased to cover more storage.
Auto-licensing rules
When automatic license adjustment is enabled, Afi automatically adds additional licenses when the total number of active protected users increases and shrinks the license count when an account administrator removes protection from users or when users become "Archived" (a user becomes "Archived" when it is deleted on Google Workspace or Microsoft 365 side or when it suspended or when its Microsoft 365 license is removed).
Additionally, if total backup storage usage grows over the amount granted by user licenses, Afi will automatically add additional licenses to cover more storage. On the contrary, if the domain storage usage decreases (for example, if a few backups are deleted or if some space is freed by the data retention cleanup), then Afi will automatically decrease the license count as well.
How to enable auto-licensing
Automatic license adjustment is enabled on a per-domain basis and can be configured at the Licensing -> Subscription tab. After it is enabled, the Afi service will adjust the license count for the domain once per week to reflect the current domain's service usage.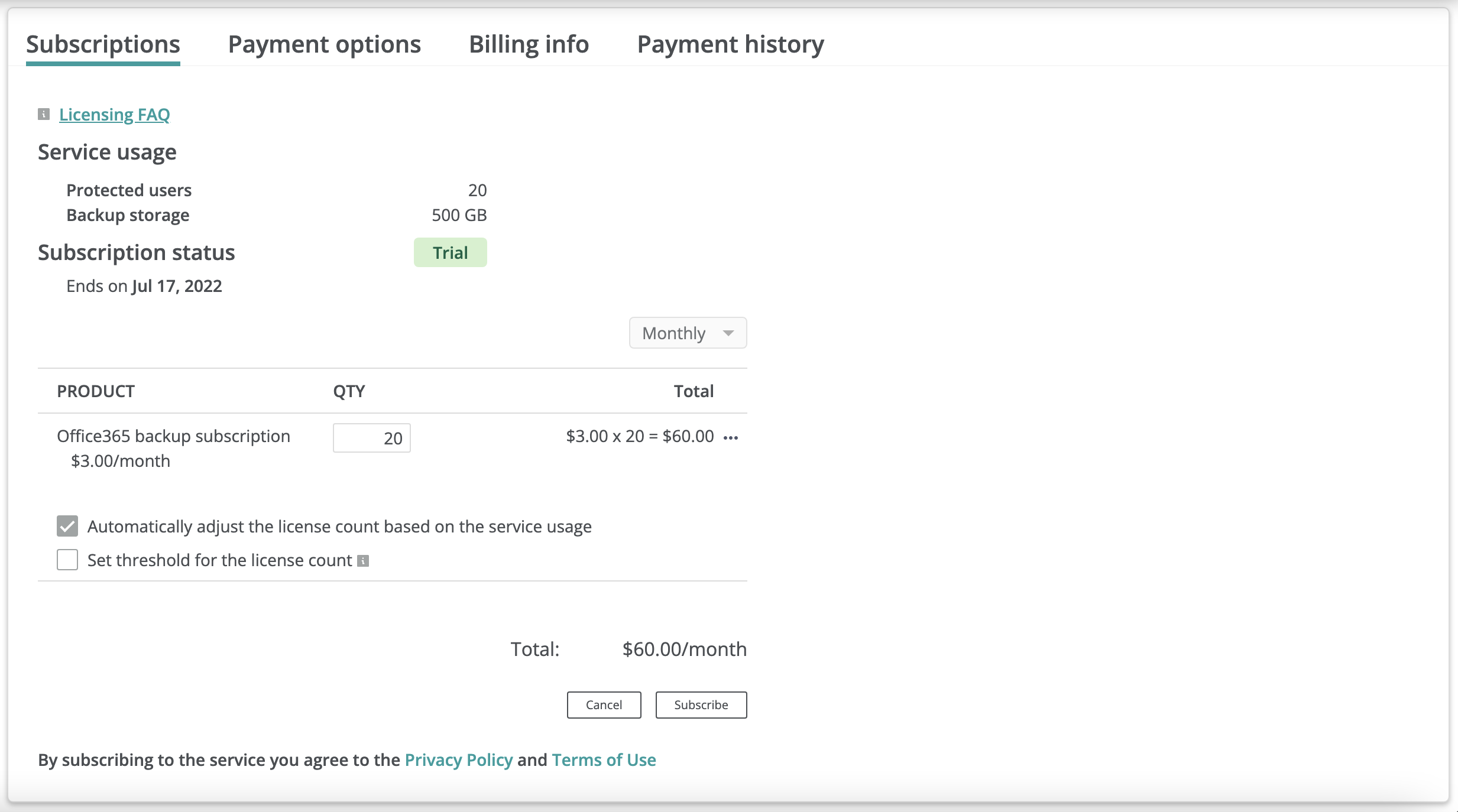 You can also set an upper threshold for a number of licenses assigned to the domain as shown on the screenshot below. In this case Afi will still adjust the license count based on the service usage but will never exceed the specified threshold for the license count.