This article explains how to install Afi Office 365 Backup application in your Microsoft 365 tenant (domain). Once the application is installed, you can learn more about Afi backup and recovery features here or watch a few demo videos here.
You need to be a Microsoft 365 Global Admin to install the Afi application for your tenant.
Installation Steps:
Login and create account
Go to Afi sign-up page and login with your Microsoft 365 admin credentials (this account will be selected as Afi admin account).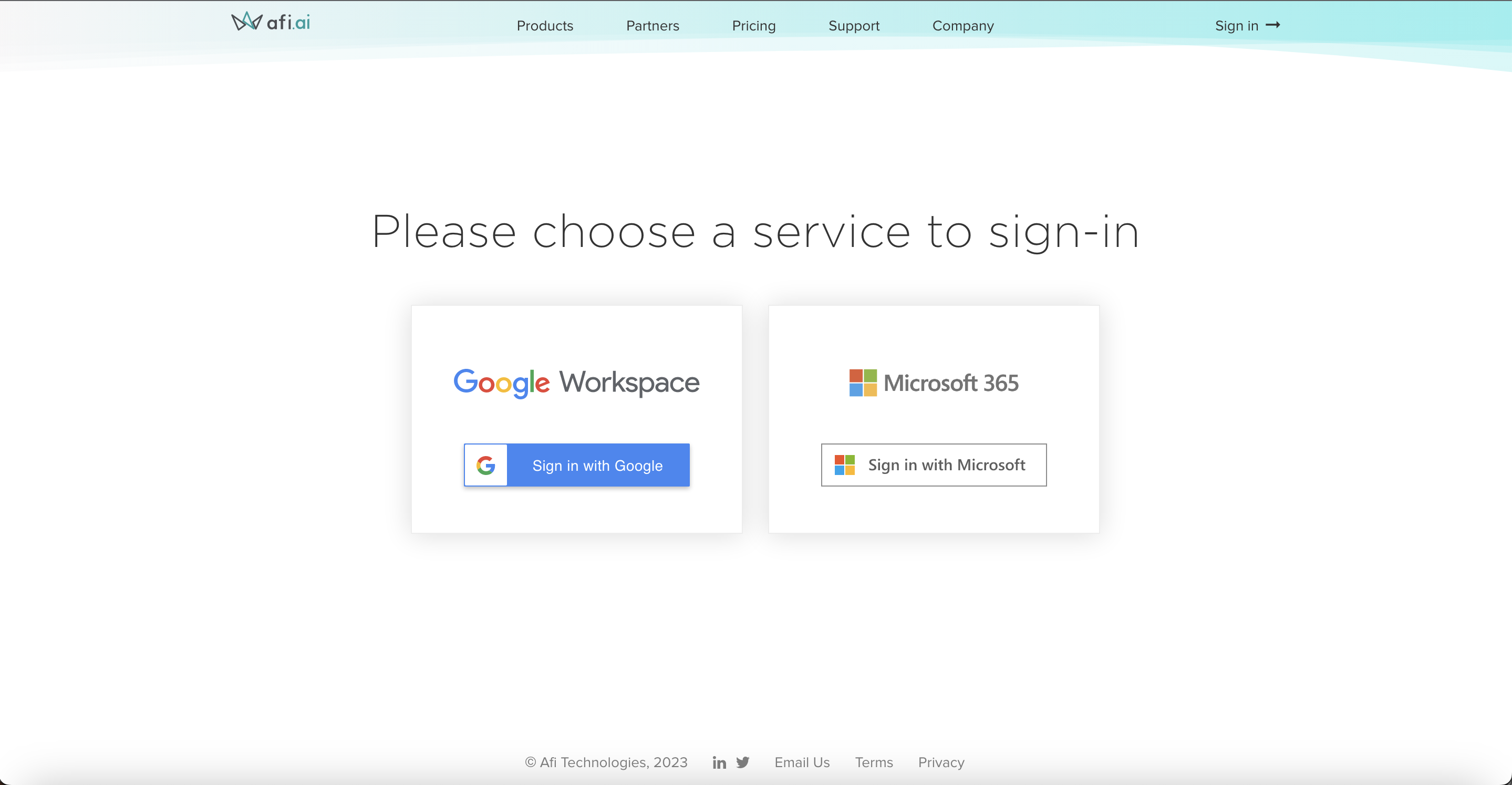 Grant the Afi application permissions to access the admin account profile for authentication purposes: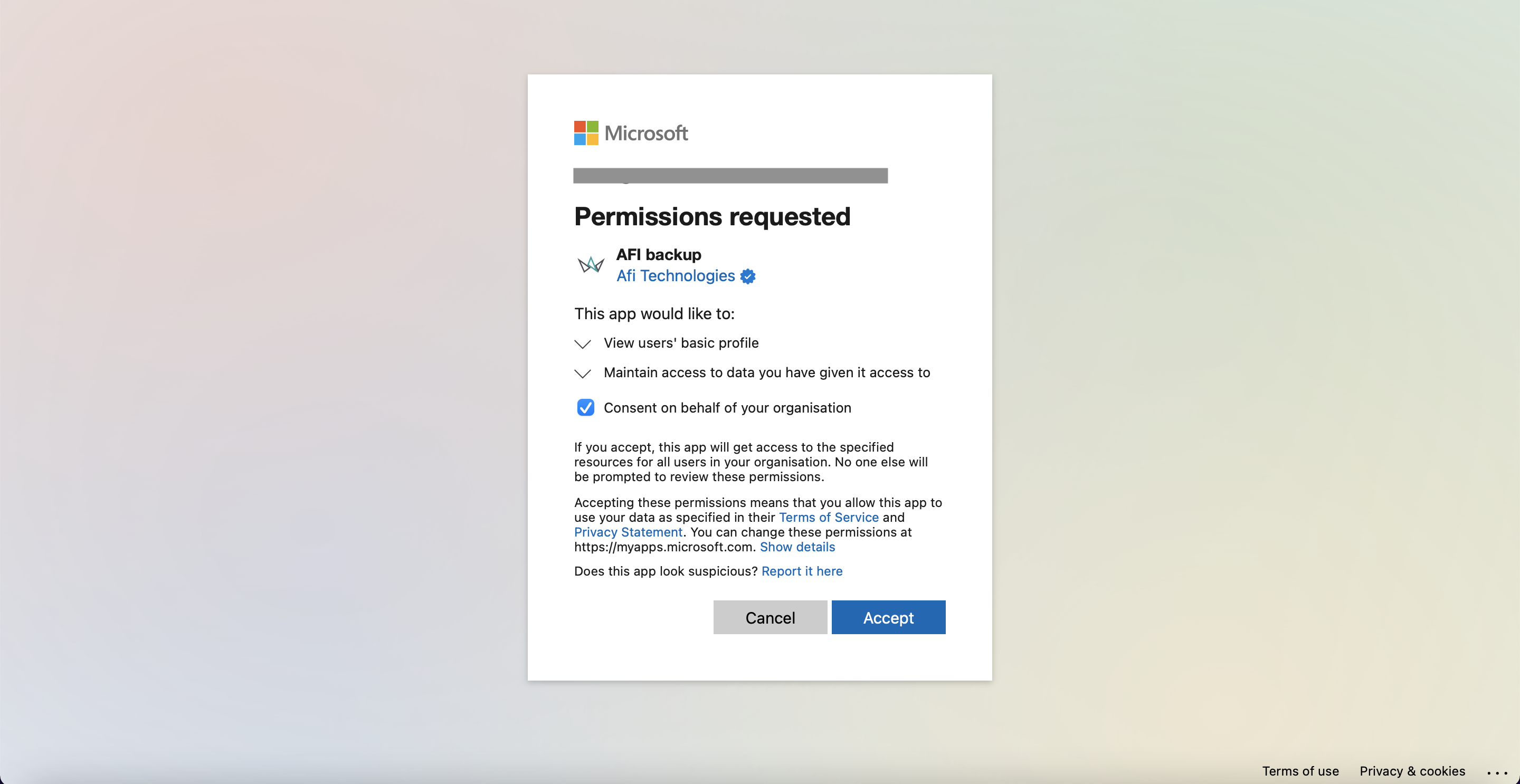 Create an Afi account: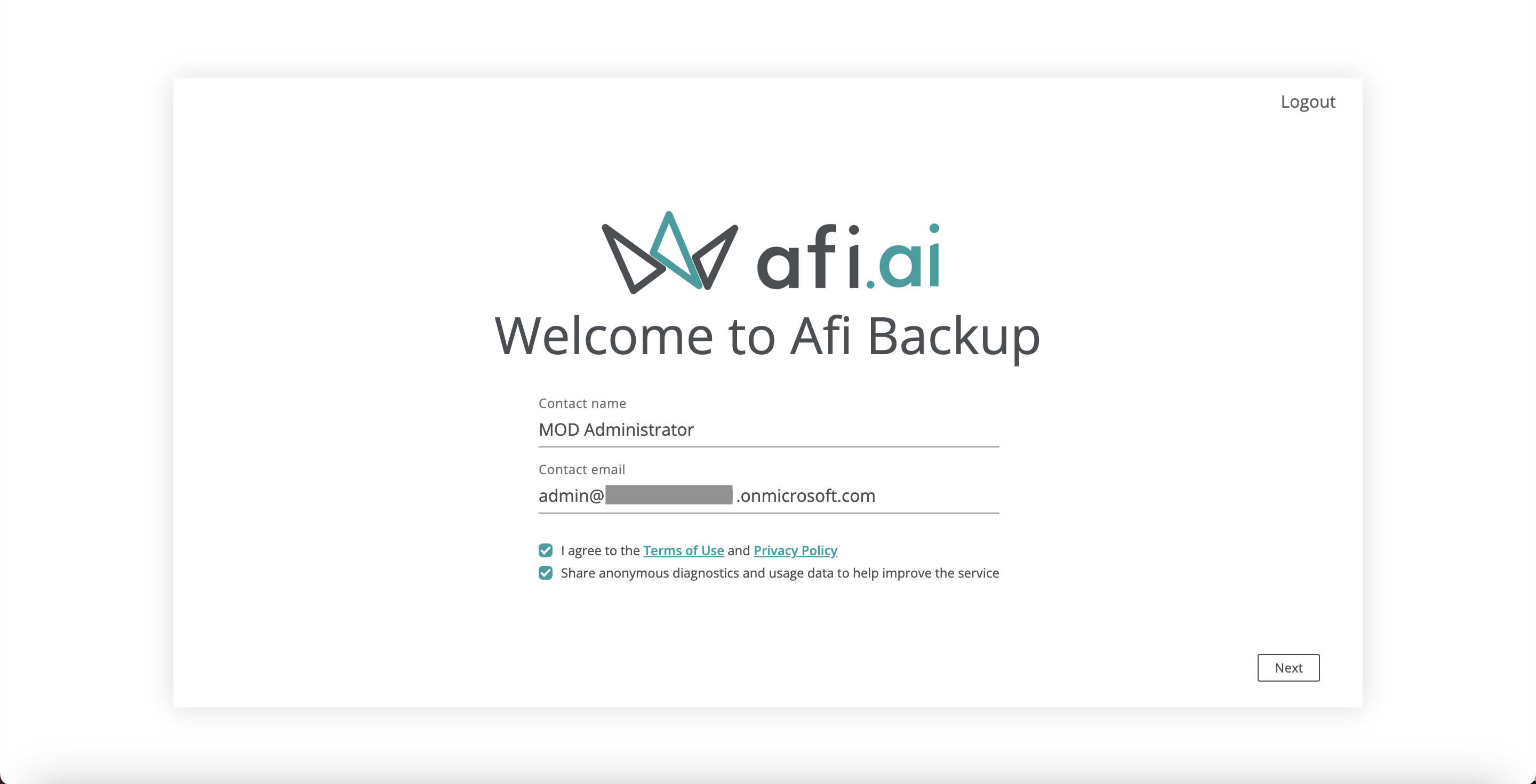 Add a Microsoft 365 tenant and install the application
After creating an Afi account, you will be redirected to the Afi portal and prompted to add your first data source (tenant). Please select the Microsoft 365 option to launch the Microsoft 365 tenant onboarding wizard.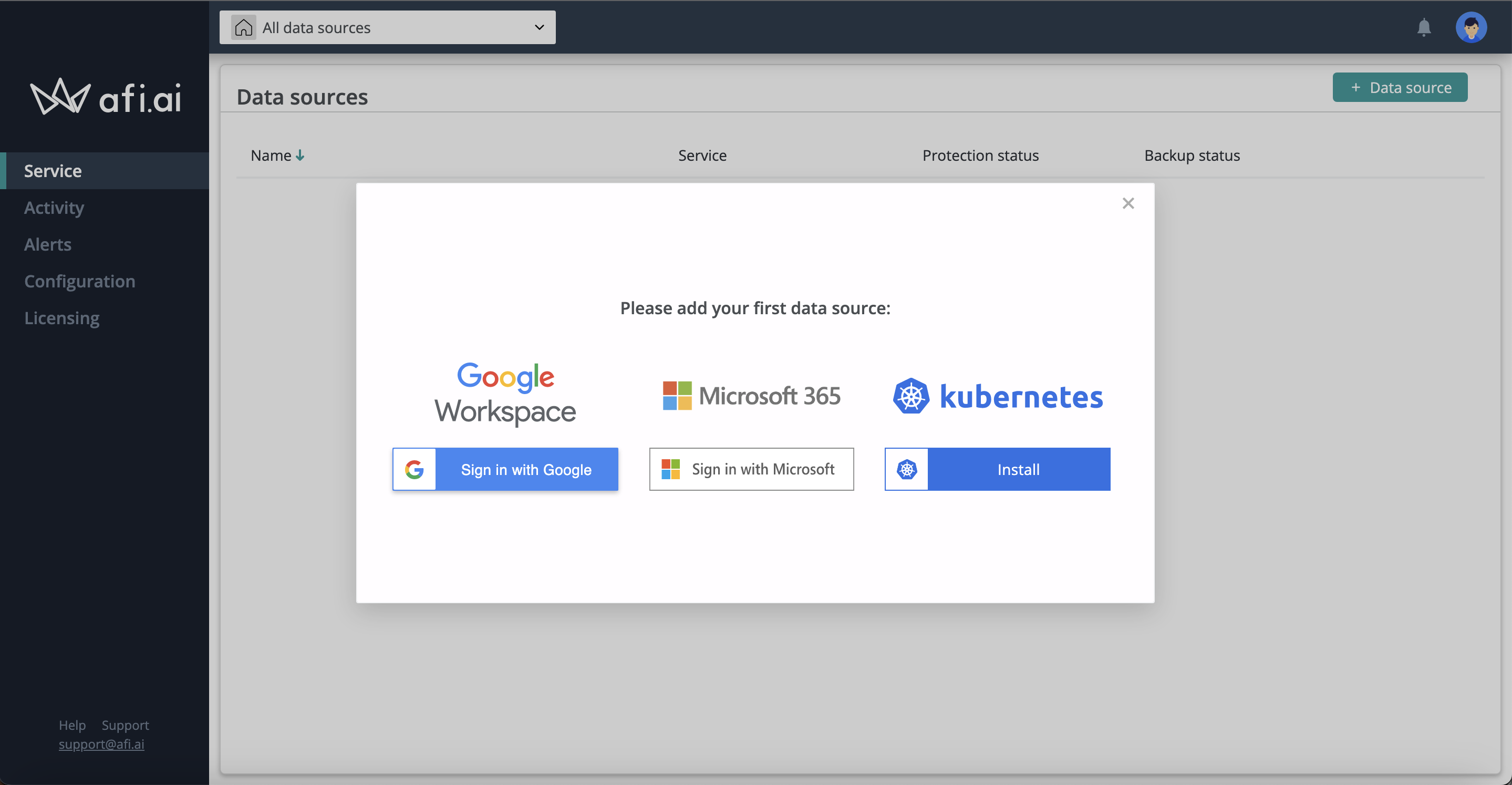 The first step in the Microsoft 365 onboarding wizard is to select a Microsoft 365 Global Admin account for a tenant which is being onboarded and then proceed with the application permissions consent grant to authorize the Afi application to access the tenant. Permissions requested by the Afi application are required to discover the tenant's resources and perform data backup and recovery.
Please note that the Afi application installation isn't linked to a specific administrator account, the application uses application permissions (in contrast with delegated permissions) to access a Microsoft 365 tenant and doesn't need to impersonate under a specific administrator or user account.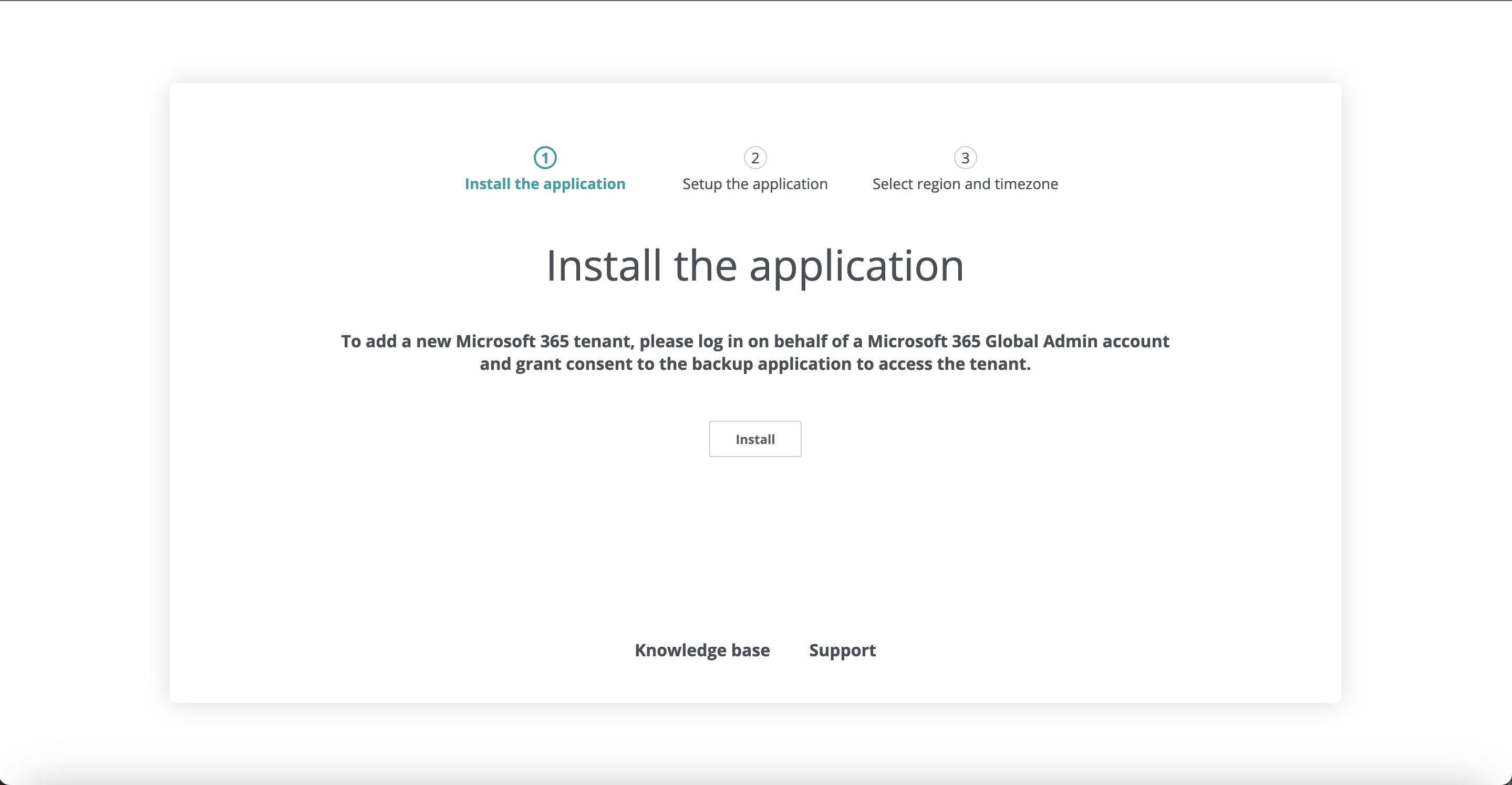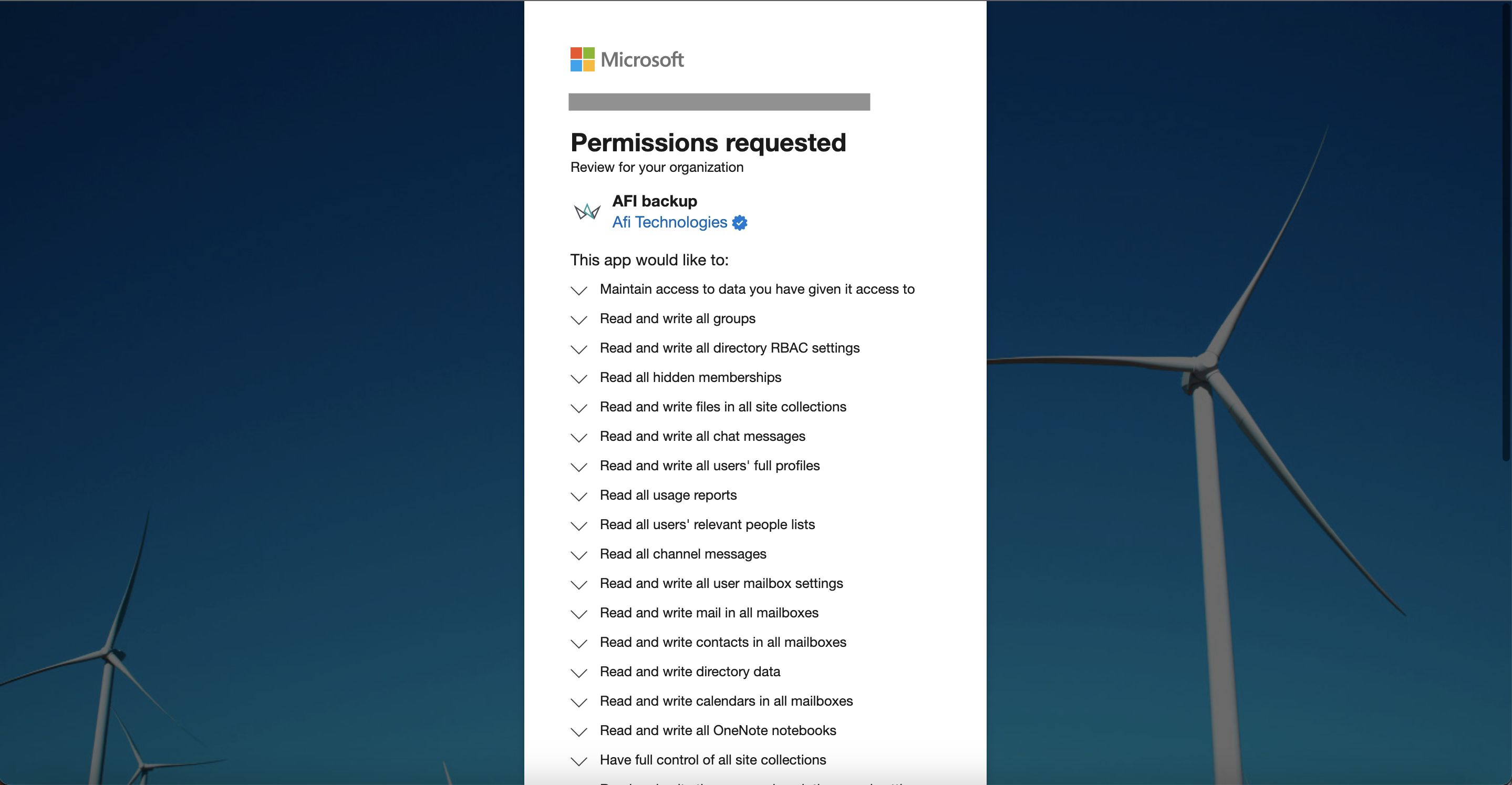 After the Afi application permissions consent is granted, you will be redirected back to the Afi portal. The service will check the application installation (usually it takes just a few seconds) and after that the service will suggest you to select a region and a default timezone for your tenant.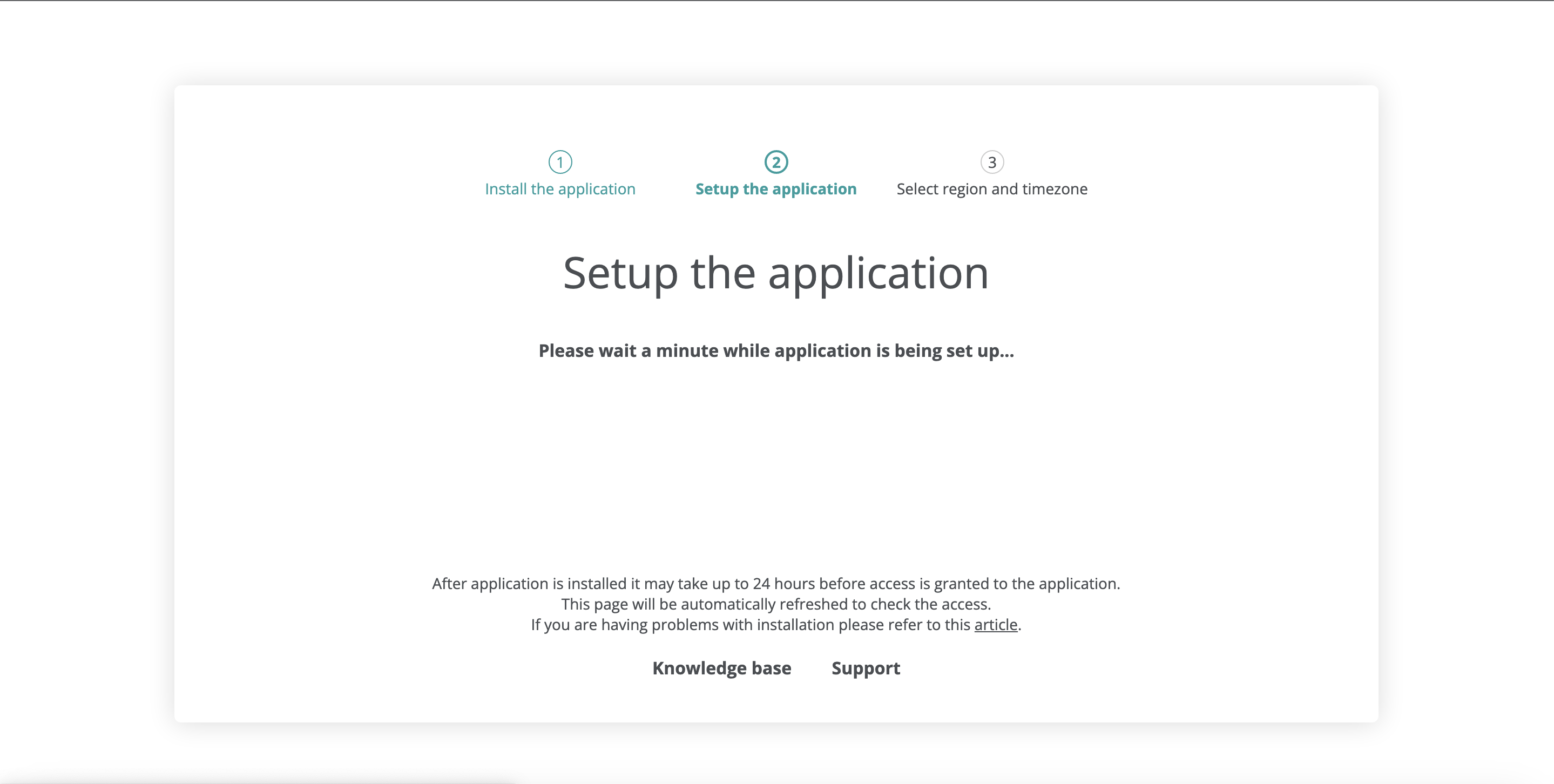 Select a region
After the consent is granted, you will need to select a region where to store backups for the tenant and a time zone. The following backup regions are available - the United States, Europe (Netherlands), the United Kingdom, Canada, and Australia. Time zone settings will affect time interval when regular backups are running.
The region where backup data is stored can not be changed after the tenant is added. You can check the region where the backup data is stored at the Service → Settings → Info tab in the Afi portal.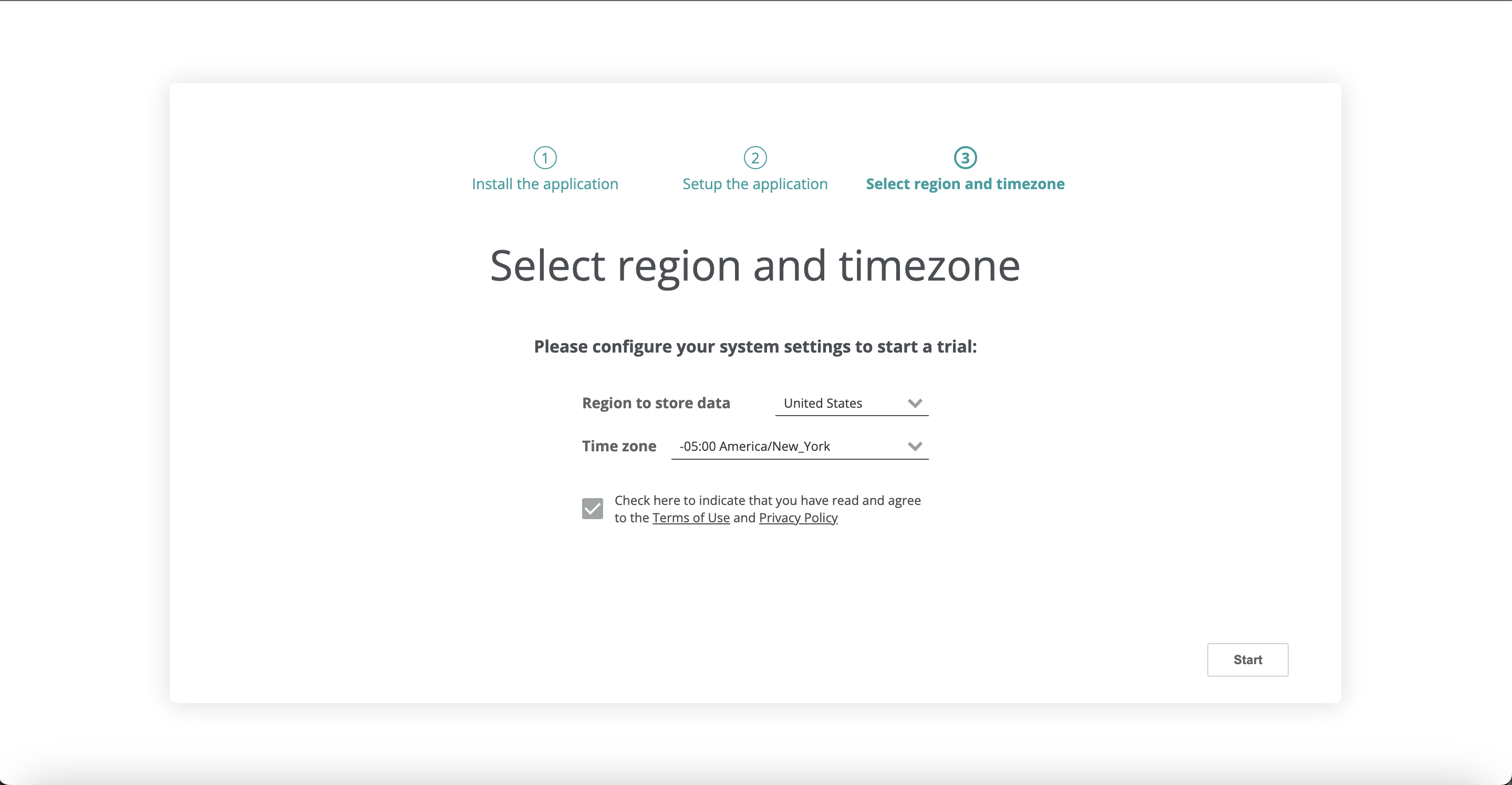 Wait for Microsoft 365 resources synchronisation
After a tenant onboarding, Afi initiates the tenant's resources discovery which may take up to several minutes for large tenants. When it is done, the service will forward you to the backup portal and send an email notification that your account is ready.
If anything goes wrong during this step, please contact us or check the following Afi knowledge base article on installation troubleshooting - Troubleshooting problems with Afi application installation.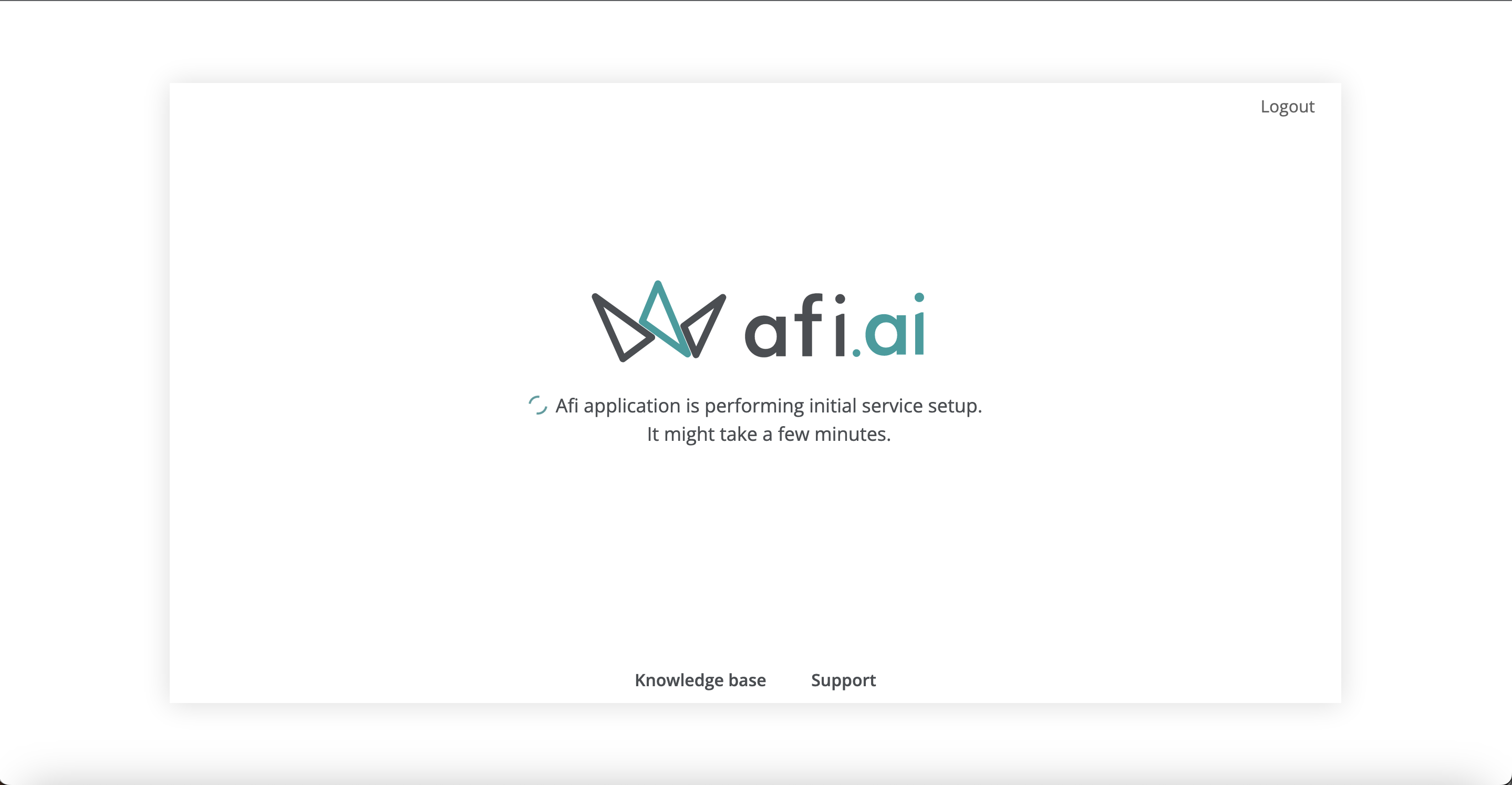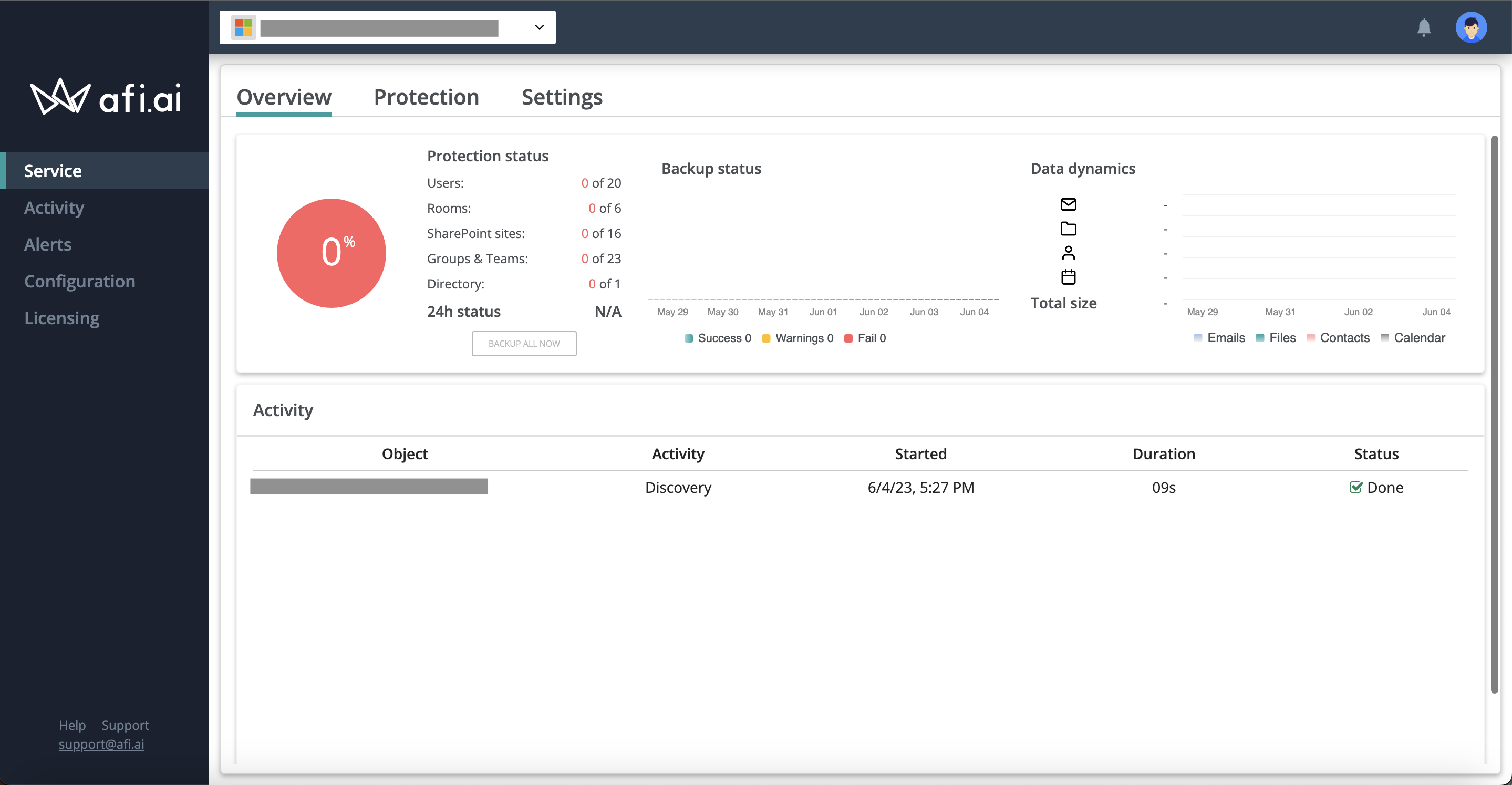 Protect your data
To start backing up your data, you can configure protection for the whole tenant, for users from a specific AAD group, or for a set of selected resources (users/sites/etc).
a. To configure protection for all resources in a tenant you need to select a top-level checkbox near the Resources label, then click on the Assign SLA button and select an SLA that will be applied to the resources. To manage auto-protecting settings or to assign SLA to specific AAD groups, please go to the AAD Groups tab.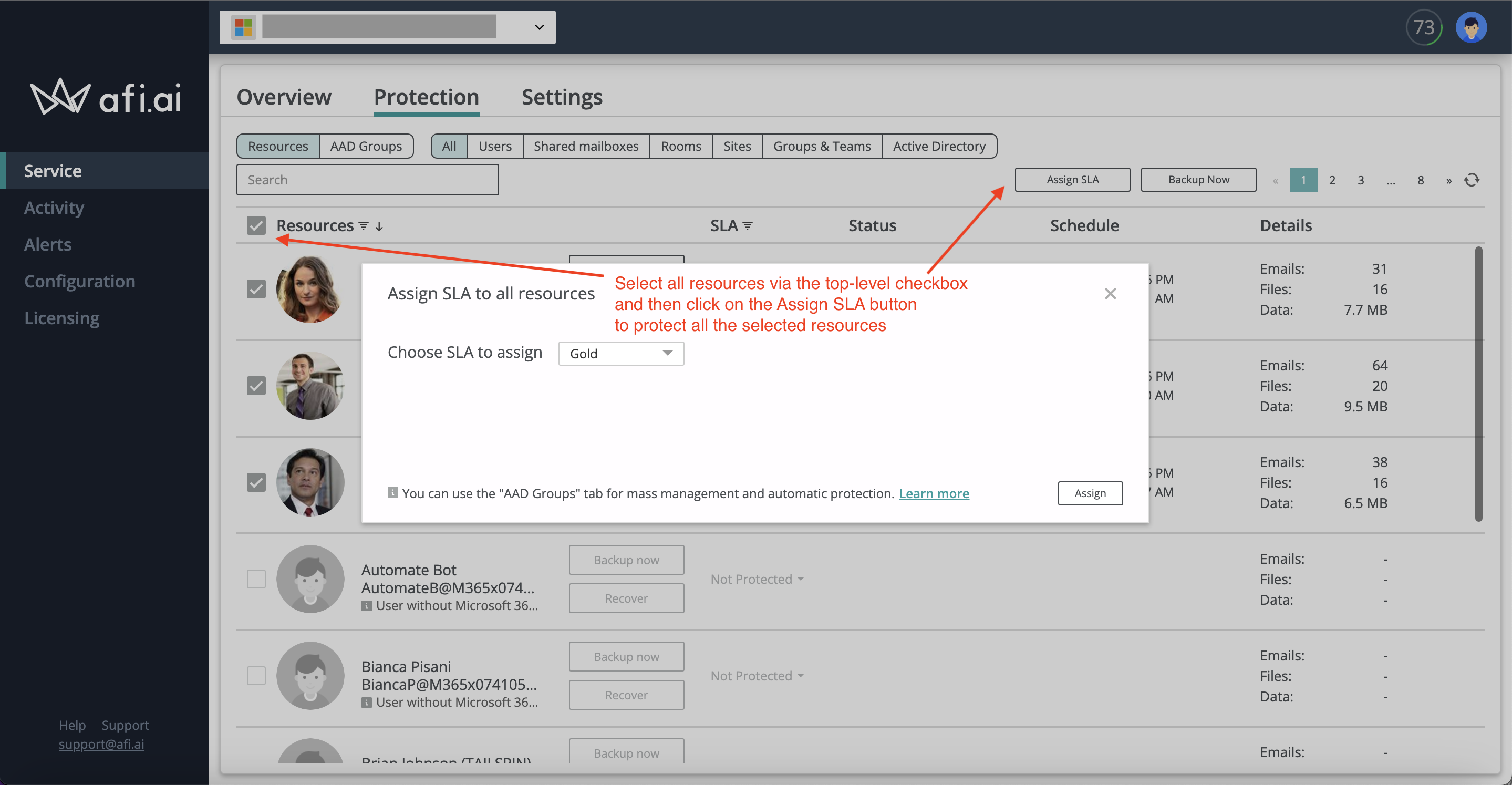 b. You can also protect only a selected subset of Users, Shared Mailboxes, Rooms, SharePoint sites, Microsoft 365 Groups/Teams or your tenant's Azure Active Directory by assigning SLA policy directly to the corresponding resources.

You can monitor backup statuses on Service → Overview dashboard which provides a high-level status of backup operations in a tenant or via Activity → Tasks section in the Afi control panel.